As a pet dog owner, you would also want to make the festive season memorable for your dogs. One of the best ways to do this is to get thempersonalized dog ornaments. Festive seasons bring with them positive energy of celebrations and fun. 
While we have our own ways of celebrating the Christmas season, we must involve our pets and ensure they are very much part of the celebrations. Dogs sense the season's positive vibe and share the extra festive energy with you. You can also get them new clothes, toys, and dog Christmas ornaments. 
To help you find thebest custom Christmas gifts for your dog, we have curated a list of 20 Christmas ornaments for dog lovers!
Personalized Christmas Ceramic Ornament gifts for dog lovers
This is a perfect gift to make Christmas memorable for your dog. The ceramic ornament gift depicts an entire pet family sitting beside the Christmas tree. If you have more than one pet, this is the best fit for you, as you can get the names of each pet customized on the gift. To customize this gift, you can select the number of pets, their types, breeds, and names.
Personalized dog memorial rainbow bridge Christmas Ceramic Ornaments
Dogs will always have a special place in the pet dog owner's family even when they are gone. This unique gift is based on the concept of the rainbow bridge poem. It is an outstanding memoir of a pet dog that anyone might have lost recently. You can choose the number of dogs, add their names and breed and, more importantly, choose a good text message which can serve as a legacy of the lost dog.
Personalized Dog Ornaments for Christmas - Custom Photo & Sayings
This customized dog memorial ornament is a perfect gift for someone who has recently lost a dog. The gift allows you to add a custom photo of the dog, add a name and choose a text message. In addition, you can either add the favorite picture of the dog or a photograph with the whole family. The customization options ensure that this gift becomes a very befitting tribute for the entire family of the dog owners.
Top Personalized Dog Ornaments for Christmas
Add more shine to your Christmas with this fancy dog Christmas ornament. Shaped in a dog bowl design, the gift is cut to perfection and has glitter accents and a dangling bone. In addition, you can get the custom name laser engraved on the gift along with the festive year. The dogs would love this as it is shiny, colorful, and something that relates to their food and meal time daily.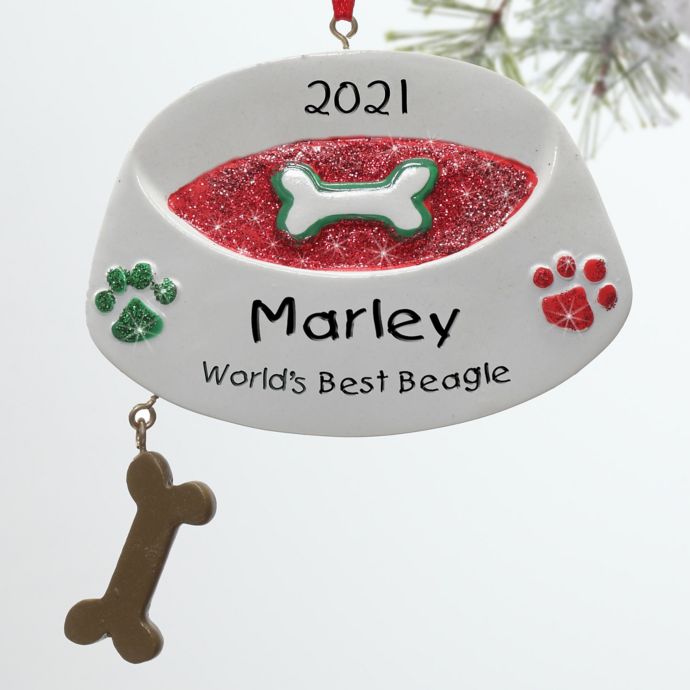 Source: bedbathandbeyond.com
Personalized Dog Christmas Ceramic Ornament Gifts for Dog Lovers
This particular gift can be exciting if you are looking for a highly customized replacement for the standard dog tag. Made of ceramic, this dog Christmas ornament comes in various shapes - circle, heart, star and oval. You can add your pet's name and breed. If you have a more prominent dog family, you can add all their names to the tag and make it more memorable.
Personalized Medallion Metal Ornament gifts for the whole family with dog - Waiting for Santa
Christmas time is always synonymous with Santa Clause, and all families eagerly await the gifts. This metallic Christmas ornament perfectly represents the Santa fever during the festive season. It depicts an entire pet family sitting by the window waiting for Santa. The gift is highly customizable as you can add family members as needed, along with their names or role.
Personalized Dog Memorial Ceramic Ornament - What The Entrance To Heaven Must Look Like
Losing a pet dog can be very tragic for the entire pet family. Dogs also grieve the loss of other dogs or pets. This may seem absurd to a few, but research has shown that pet dogs also show symptoms of grieving. At such a time, this ceramic ornament can prove to be a nice gesture for your dog. It captures the concept of what heaven looks like. You can add in your pet family members along with a nice message.
Personalized Christmas Ceramic Ornaments Family - Hiking Background
Dogs are the best-hiking partners, and as a pet owner, if you have not already gone hiking with your dog, you are missing out on a fantastic experience. Converting those sweet hiking memories into a Christmas ornament is an excellent way of celebrating your moments with your pet dog. This personalized ceramic gift can be customized to add family members, including other pets, with their names and breed.
Personalized Dog Ornaments for 2022 Christmas
If you are looking for personal ornaments for you or your dog with the year mentioned on it, then this option can be advantageous. Made out of resin, this dog Christmas gift is perfect for two reasons: it has an excellent festive video and can be customized to add the dog's name to the bone. Simple but cheerful, this personalized 2022 dog Christmas ornament is something you should get for your dog no matter the breed.
Source: ornamentshop.com
Personalized Christmas Medallion Metal Ornament - Pickup Truck
If you are a pet family that owns a pickup truck and loves to take pets around, this is the perfect Christmas ornament. Unlike other standard decorations, this one comes in a good cutout shape which is unique and is made of metal. The imagery contains happy pet faces looking over from the truck. In addition, you can add up to 5 pets along with their names.
Personalized Bernese Mountain Dog Statue With Dangling Bone Ornament
Dog replicas are one of the best ways to have a good keepsake for your pet dogs. This Bernese mountain dog statue is designed with perfect finishing and displays a happy dog with a bone. The content on the bone can be customized to include your pet dog's name and the year it entered your life. This gift can be used as a hanging, ornament, or even for other purposes like a keychain.
Source: personalizedornamentsforyou.com
Personalized Ceramic Ornament gifts for dog lovers - Christmas Wooden Fence
One of the favorite play areas of pet dogs is the wooden fence. There would have been many moments when you would be leaving home or coming back and finding your furry friend looking over the rigid face, waiting for you. Capture that amazing feeling through this ceramic ornament gift wherein you can add your pets across the beautiful Christmas wooden fence setup.
Santa Ho Ho Ho - Personalized Christmas Medallion Dog Ornaments
No matter what part of the world you live in, Santa Clause is always a prominent feature of the Christmas season. He lightens up the festive spirit for all of us, which is the sentiment captured in this beautiful Christmas medallion. Made out of metal, it has the option of adding your family members and pets along with their names and breed.
Personalized Christmas Fireplace Ceramic Ornament
Fireplaces hold a particular significance during the Christmas season, as this is where you get to decorate and add stockings and gifts. This ceramic ornament shows a well-decorated festive fireplace with pets and a unique wish message. It comes in various shapes, and you have the option of adding a variety of pets with their names and special wishes.
Personalized Dog Memorial Christmas Ceramic Ornaments
Festive times like Christmas are when you miss your lost pets the most. You have special memories of such occasions with them. One good way of remembering them is through this dog memorial ceramic ornament. Available in various shapes, it allows you to add a custom message on one side, and on the other side, you can add a photo of your pet.
Personalized Christmas Tree Ornaments for dog lovers - Car Camping - Night Sky
Many pet parents enjoy taking their pets for a camp night where they spend time with them gazing at the night sky. This ceramic ornament captures special moments, showing a pet family sitting in a car and watching the stars. The background is black, making it more special. You can add members of your family, pets and pets that are no longer with you.
Personalized Picture Ornaments - Dog Memorial Square Metal Ornament
Ornaments can also help in serving as a tribute to the pets you have lost. Hanging these ornaments on the Christmas tree or in other places enhances the importance of your pet. This metal ornament has a unique shape and allows you to add a photo of the pet and a special message, your name, and your date.
Personalized Christmas Paw Ornament 
It is impressive to see people's creativity in designing such personalized dog Christmas ornaments. This wooden ornament is hand carved in the shape of a paw with the image of the dog in the center and the year along with it. There are many customization options, from the paw color and pattern to the pet photo and name.
Source: pawfecthouse.com
Decorative Cat And Dog Christmas Hanging Ornament
If you plan to go overboard by having multiple Christmas ornaments for your pet dogs or cats, this craft option can be worth checking out. It contains a variety of breeds and allows you to customize them as per need. The final products look very finished and polished; you can use them for the Christmas tree, fireplace, and surrounding area to decorate with the festive spirit.
Source: alibaba.com
Family pet ornaments, Christmas furry ornament
Give your Christmas decoration a quirky and creative look with these dog ornaments. They have a fantastic wooden texture and good finishing. You can get them customized as they are made to order. You can hang them on the Christmas tree or even use them as tags while gifting your furry pets their unique festive presents.
Source: Etsy.com
Final Thoughts
Christmas is the time to get together and celebrate with the family. This includes pets also. The unique dog Christmas ornaments mentioned above can help make your pets' festive season special. Make them a part of the Christmas tree and home decoration, or gift them a memorable keepsake that will serve as a cherished memory for them and your family.