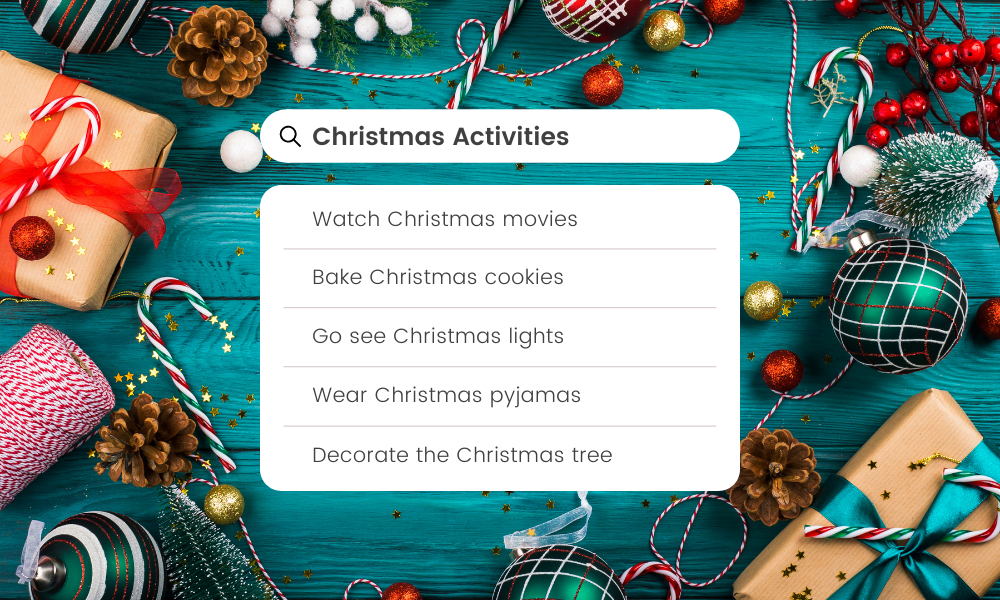 Christmas is the most wonderful season of the year and it definitely deserves some intention behind your plans. It's a time when you need to make sure you're remembering the real reason for Christmas and inspiring your family to celebrate thoughtfully. 
It would be pretty difficult to run out of things to do for Christmas but if you want to do something actually memorable, planning ahead can help keep you motivated to do so. For the purpose of giving you some ideas of Christmas things to do (some of which you might never have thought of), we've compiled a list of 32 Christmas activities that can be done throughout the entire month of December.
Have a plan and budget for Christmas
Christmas time is the most common time when people can go over the budget. It's important to have a detailed plan and a prepared budget. Make lists of the things you need to prepare for the festive season. It will help you to manage your spending and keep you on track.
Make your Christmas orders early enough
Due to the pandemic, global supply chains are in disarray. The annual holiday shopping surge can put ports, factories, and shipping services in a high-pressure situation. Thus, many people start their shopping season late and end up with last-minute gift orders. This can make the shipping delays, out stocks, and price raising even worse. 
Take experts' advice: Spare yourself the holiday heartache, and get your gifts soon. Retailers are expecting weeks—or even months—of delays. It's a good idea to start early! You can check out Unifury Christmas gifts for a little inspiration.
Buy or make your Christmas cards early
It's the thought that counts, Christmas cards are a great way to communicate with friends and family you don't often speak to. If you want to let loved ones know what's been going on with your family over the last year, send a round-robin letter.
Buy or design a perfect heirloom gift for your family
Family heirlooms are sometimes not worth as much as the story that goes along with them. The stories are what keep family histories alive, enhance understanding and create family long-lasting traditions. Consider what you want to pass down to your family members, whether it's jewelry, paper photographs, scrapbooks, photo albums, handwritten recipes, handmade clothing or journals and holiday decorations (Christmas ornaments, wreaths, stockings, etc.)... 
Inspect your Christmas decorations
For many, Christmas is a time of joy, celebration, and tradition. Decking the halls is a festive way to celebrate the season. It's time to pull out and inspect your Christmas decorations, spread the holiday spirits, and have fun with family and friends.
Make a Christmas wreath for your gate and front door
Amaze your guests with a warm welcome by hanging a brilliant wreath on your front door. There are many DIY Christmas ideas that will walk you through how to construct a beautiful wreath for your holiday home decor. If you don't have time for that, you can go to the store and grab one.
Create a Christmas playlist
Whether you're trying to boost your mood while driving, sing along while you deck the halls with all your favorite holiday decorating ideas, or baking holiday cookies for your annual Christmas party, you'll want all the best Christmas songs that will get you into the spirit of the holidays. With so many options to choose from, you're sure to craft the perfect playlist year after year.
Create a fun way to countdown to Christmas day
Create a fun and visual advent calendar so that kids can countdown to the big day.
Help Others Who Are Less Fortunate This Christmas
Christmas is a time for exchanging presents, snuggling up in blankets, and getting merry on mulled wine, but for many unfortunate people, it can be a very tough time. While we are gathering around the fireplace, opening presents under the tree, there are others who have no fire, no gifts, and sometimes, even no family or home at all. 
Helping people in need at Christmas can magnify the beauty of the gift-giving season. Whether you wish to donate old clothes, volunteer at a local food bank or wrap presents for disadvantaged children, there is plenty you can do to help those less fortunate at Christmas and make someone feel loved this holiday. This is also a good chance to teach your little ones about the Christmas spirits.
Make your Christmas list
Since we were little kids, there's always been something we wanted to receive as a Christmas gift. And that doesn't change just because we're adults today! Maybe we don't need to take it as seriously as we did when we were 7, but writing down a wishlist is fun and a simple way to get into the holiday mood. Your wishlist doesn't need to be for someone else, but it can be a simple thing you want to give yourself.
Sip on hot chocolate by the fire
When the cold air starts biting, sipping some hot cocoa while watching a fire blazing can warm your heart. The winter holiday is the perfect time to have a moment for yourself! You can keep your cocoa warm in Unifury campfire mugs (they make great Christmas gifts too!) 
Bake Christmas cookies
Who doesn't love the smells of fresh-baked cookies? Baking is one of the common Christmas activities that evoke a lot of heart-warming memories and brings a Christmas scent to your home. This year, try a new recipe, and don't forget to share your delicious cookies with friends and family. 
Build a gingerbread house
A Christmas classic - build a gingerbread house. You can build a traditional one or get creative with a whole gingerbread village. There are tons of options, and each one will help you get into a festive mood. 
Complete a holiday-themed puzzle
Crack open a jigsaw puzzle with a holiday theme and aim to have it complete by Christmas morning. Consider posting a photo update to social media with your progress. A custom puzzle will make this game more special and meaningful. Once done, you can re-gift the puzzle to a family member to complete. It's a perfect gift that keeps on giving through your family.
Go ice skating
Winter is the perfect time of year to go outside and get skating. This is a fun activity for the entire family and can be even better if paired with a few other outdoor activities. Don't forget to take some photos to save your wonderful Christmas memories on the ice!
Build a snowman
Building a snowman is one of the most classic and fun Christmas activities and has become a part of many family traditions. Accessorize the snowman with a hat, scarf, buttons, sticks, and other beautiful decorations to make him true to life. 
Spend a whole day in your Christmas pajamas
You don't need to wear them on Christmas Eve, but spending a full day lounging in your comfy sleepwear can give you holiday cheer. You can gather your family or friends together and ask them to wear the same. 
Start a new family tradition
When you're running out of ideas about what to do during the holiday, consider starting a new family Christmas tradition. Whether it's caroling through the neighborhood, organizing a new game, or going Christmas tree hunting, you're sure to find something you'll look forward to every year.
Go see Santa
Even as an adult, going to visit Santa at the mall can be enjoyable. Go with younger family members or friends' children, or go on your own. Stopping to see Santa can bring back a special kind of holiday joy you haven't experienced since you were a kid.
Chop down your own Christmas Tree
Whether you need to travel far away or drive across town to find your tree, nothing beats the beloved tradition of cutting down your own tree and filling your home with the piney scent. 
It's an extra special and fun experience for the whole family to choose your holiday centerpiece together.
Try Christmas crafts
Christmas paper cutouts, coloring books, DIY snow globes, cross-stitch, paper snowflakes, ornaments, and so much more! Christmas is the perfect time to get hands-on with a festive craft and enjoy some creative family time.
Spend an evening wrapping presents
Decorate the Christmas tree
Trimming the tree is a must for the season. It can be exciting pulling ceramic ornaments out and finding the perfect spot for them on the tree. Set a time and place for everyone to arrive with their favorite decorations, and make an event of setting the house decor to holiday mode.
Hang stockings
The mantle is a focal point of the house so it deserves special care and attention. Decorating the mantle with festive stockings is a wonderful idea to enhance your centerpiece. Stockings create a cozy atmosphere with their cute appearance, and they're a wonderful spot to hide tiny Christmas gifts and candy. 
Host a cookie exchange
After spending days in the kitchen baking up your favorites, why not organize a fun cookie exchange? Cookie exchanges are fun activities and a legit way to get everyone into the holiday spirits. You can express your creativity to your friends and family while getting a dozen delicious cookies and of course, learning new recipes too. 
Take a family Christmas photo
One of the more standard Christmas activities, but totally a fun one, is to take a Christmassy photo together with the whole family. It will make for such sweet memories in the future. You can turn the photos into Christmas cards, or make a Facebook album to share some holiday cheer with your friends and family.
Write a letter to Santa
Get ready to bring back childhood memories. Writing a letter to Santa is not just for kids but adults too. Make a list of what you want for Christmas and address it to Santa at the North Pole - maybe you'll get lucky and someone will get you something from your list!
Host a gift exchange
Play a fun game of secret Santa or white elephant for an opportunity to gift to friends and family in a new way. You'll walk away with a special present, and you'll have a lot of fun creating Christmas memories.
Watch Christmas movies
Spending an afternoon or evening watching Christmas movies is a must! (You could also spread out your movie marathon over the course of a week.) Let each family member choose a favorite holiday flick to watch with the family. There's nothing quite like snuggling up on a warm blanket, watching all the best movies, and enjoying a hot cup of cocoa. 
Connect with out-of-town friends or relative
No matter how far you live from your family and friends, you'll want to keep them close to your heart this Christmas. The holiday season is the perfect time to catch up with an old friend that you haven't connected with in a while or a faraway family member. Grab your devices for a video call to loved ones this holiday season.
Leave cookies for Santa Claus
On December 24th, leave cookies for Santa Claus… even if you don't believe in him anymore.
See Christmas lights
Take the family on a tour of the local lights this Christmas Eve. Pack everyone into a car and include some fun holiday snacks for the road such as hot chocolate, Christmas cookies, and candy canes.
Wrap up
So there you have it: 32 things to do for Christmas! What's your favorite tradition around the holidays? Leave a comment to give us more ideas to try with our loved ones this Christmas! Happy holidays! 🤗🎄