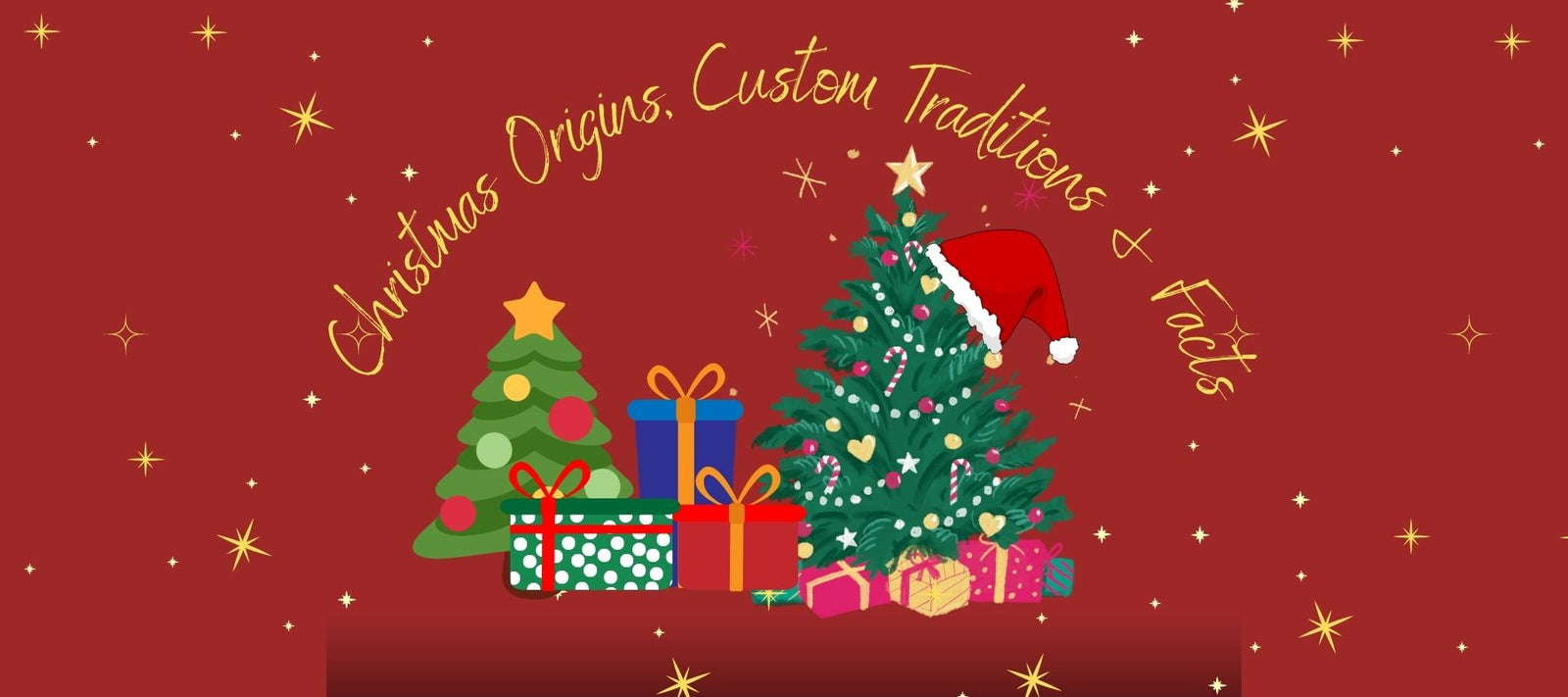 Christmas became the foremost thought for Christians around the globe on December 25th. Over the course of two millennia, Christmas has ingrained itself naturally into both religious and secular spheres, complete with its rich traditions and practices. 
Christmas truly stands as the most enchanting season, adorning streets with luminous grand evergreens, enveloping homes in love and coziness, and encouraging people to take a pause from work or even journeying, all to embrace this cherished festivity.           
What's Christmas Origin? 
It's a topic that sparks much speculation – the origin of Christmas traditions. Some attribute the roots of Christmas traditions to ancient Rome, where December 25 marked the celebration of Mithra's birthday. On the other hand, there's a belief that the Christmas tradition emerged from the Christian community, which commemorated Jesus's birth.
Centuries before the time of Jesus, early Europeans developed traditional practices to commemorate light and birth during the chilly winter season. Later on, many people believed that the origins of Christmas come from both Roman cultures and pagan traditions. When Christianity arrived in Europe since the exact birthdate of Jesus was not known, his birthday was celebrated by adapting pagan rituals.
There are many different stories about the origin of Christmas
👉 You may also like: Xmas Tree delight: Ideas, Care Tips, and Decorating Inspiration. 
When Christmas is celebrated?
Advent
Advent spans four weeks and encompasses the four Sundays leading up to Christmas. At times, Advent is simply defined as the period from December 1st to Christmas Eve. In Latin, Advent means "Coming," signifying Jesus' arrival in the world during the Christmas season. Christians consider Advent as a time for preparation and reflection on the sacred significance of Christmas.
Christmas usually celebrate on Advent
The 12 Days of Christmas
Observing Christmas over a span of 12 days is a Christian tradition. The Twelve Days commence on Dec. 25 (Christmas) and conclude on Jan. 6 (Epiphany). Christians widely hold the belief that these 12 days of Christmas commemorate the time since the birth of Jesus. Throughout this period, the Magi or Wise Men are said to have journeyed to Bethlehem for the Epiphany, where they recognized Jesus as the Son of God.
Epiphany
The Epiphany Feast, also referred to as Three Kings' Day, is a significant Christian celebration observed on January 6th.
This day carries profound significance for numerous Christians as it marks the occasion when a guiding star led the Magi – also recognized as the Three Wise Men or the Wise Men – to visit the infant Jesus shortly after his birth.
The term 'Epiphany' originates from the Greek language, signifying 'revelation,' capturing the sacred moment when the infant Jesus was 'revealed' to the world.
What are Christmas traditions and customs?
Church attendance
For the faithful, attending church services on Christmas Eve or Christmas Day plays a significant role in acknowledging the Christmas season. Alongside Easter, Christmas Day constitutes the time of the year with the highest church attendance.
Church attendance at Christmas
Decorations
The tradition of Christmas decorations has a rich history. Since the 15th century, Londoners in Britain were known to adorn their homes with holm, ivy, or holly, each carrying its own symbolism. Ivy's heart-shaped leaves were believed to foretell the arrival of Jesus, while holly was thought to repel pagans and witches.
In the 16th century, a native Mexican plant, the poinsettia, emerged as a new holiday plant associated with Christmas, symbolizing the Star of Bethlehem or the Flower of the Holy Night in Spanish. Alongside the poinsettia, mistletoe also became a popular Christmas plant. A custom arose where anyone standing under mistletoe hung in the house during Christmas might receive a kiss.
Over time, Christmas became adorned with an array of vibrant colors and diverse decorations. People began to hang various Christmas ornaments on their festive trees, including balls, candy canes, stockings, candles, bells, and even light strings. Displaying wreaths on front doors and adorning less-noticeable corners of the house also became associated with traditional Christmas decorations.
Christmas decoration
👉 Watch more: When Can You Take Christmas Decorations Up? A Guide to before-Holiday Traditions
Nativity play
Among the various Christmas practices observed by Christians, the Nativity play stands as one of the oldest. Its origin can be traced back to the reenactment of the Nativity of Jesus in A.D. 1223. During this time, Saint Francis of Assisi set up a Nativity scene and gathered children to sing Christmas carols, celebrating Jesus's birth outside his church in Italy.
His Nativity scene gained popularity, and people from around the world began incorporating drama and music. The tradition of Nativity has rapidly spread across Europe. Countries such as France, Spain, and Mexico embraced this practice, reenacting the plays on both Christmas Eve and Christmas Day.
These performances took place in various venues, including churches, schools, and theaters.
Nativity play
Music and carols
Christmas hymns date back to fourth-century Rome, with notable examples like "Veni redemptor gentium" and "Corde natus ex Parentis." The 12th century introduced a precursor to modern Christmas carols, while the 13th century saw compositions in native languages, influenced by Francis of Assisi. The first English carols appeared in 1426, and some, like "The Holly and the Ivy," originated in the Middle Ages. Charles Wesley, an 18th-century reformer, significantly expanded the reach of carols, penning classics like "Hark! The Herald Angels Sing." Secular carols emerged in the late 18th century, and the 20th century brought jazz and blues variations, modernizing the beloved tunes.
Traditional cuisine
Enjoying a special Christmas meal with loved ones is a cherished global tradition, with each country boasting its unique festive dishes. For instance, Sicily traditionally features a meal with 12 fish varieties, while the UK favors turkey and goose. Eastern Europe, including Poland and Scandinavia, historically preferred fish, though meat dishes have gained popularity. Sweets, like Germany's marzipan cake and Jamaica's rum fruit cake, are universal, satisfying sweet tooths worldwide during the festive season, highlighting the global and varied culinary traditions that define Christmas celebrations.
Christmas traditional cusine
Cards
In the days and weeks leading up to Christmas, people worldwide enjoy exchanging Christmas cards with their loved ones. These cards often hold meaningful messages and well-wishes, ranging from traditional greetings like "Merry Christmas" to more personal sentiments.
In the early years of Christmas card popularity, their designs often reflected the essence of the Christmas story, featuring Christian symbols such as the Star of Bethlehem or scenes from the Nativity of Jesus. As time went on, the market saw a wider variety of designs, including secular themes.
Some cards showcased Christmas traditions, while others featured images of Santa Claus and festive ornaments. Nostalgic winter scenes, like snowy landscapes and serene wildlife, also adorned many cards. By the 19th century, Christmas card designs had evolved to embrace humor and creativity in new and different ways.
Christmas cards
Commemorative stamps
Commemorative stamps have surfaced in various nations and garnered attention from philatelists. Governments release these stamps during Christmastime for customers to affix to their mailed Christmas cards. These stamps differ from Christmas seals, as they are standard postage stamps with year-round validity.
Christmas Commemorative stamps
Gift giving
Many hold the belief that the tradition of gift-giving during Christmas has Christian origins tied to Saint Nicholas. The Magi presented gifts of frankincense, gold, and myrrh to the infant Jesus on this occasion.
However, some argue that the practice of exchanging gifts is influenced by Roman traditions observed during the Saturnalia celebration. Despite its origin, the act of giving gifts during Christmas has become an integral tradition in contemporary Christmas celebrations.
Christmas Gift giving
What are Christmas interesting facts?
Amaze your family and friends this Christmas holiday with a collection of intriguing Christmas facts that we've gathered!
Bid farewell to Black Friday! The Friday and Saturday preceding Christmas deserve recognition as the most bustling shopping days of the year.

Christmas underwent prohibition in the mid-17th century. The English Parliament, led by Puritans, imposed a ban on Christmas festivities, favoring a day of fasting instead.

Japanese families uphold the tradition of visiting KFC on Christmas Day.

In the early 1600s, Germans crafted tinsel from genuine silver.

"Jingle Bells" holds the distinction of being the first song played in space, according to Guinness World Records.

The contemporary portrayal of Santa owes much to the contributions of Coca-Cola.

An astounding 85 percent of American children believe in the reality of Santa Claus.

In 1950, Seattle earned the distinction of displaying the world's tallest Christmas tree.

The term "X-mas" dates back to the mid-1500s, carrying a historical origin.

Queen Victoria became the first individual to send a Christmas card. 
Watch more: 
Unmasking the Truth: Top Facts About Halloween You Might Not Know!
Frequently Questions about Christmas
Is Jesus born on Christmas? 
Intriguingly, the Bible doesn't actually specify December 25th as the date of Jesus's birth.
For early Christians, Easter held the status of the primary holiday, and the celebration of Jesus's birth hadn't taken shape yet. It wasn't until the fourth century that church authorities reached a consensus to establish Jesus's birth as an official holiday. Surprisingly, the Bible itself doesn't detail the exact date of his birth. 
Are Xmas and Christmas different?
There's actually no difference between Christmas and Xmas. The letter "X" is the initial letter of the Greek word for Christ. It's also a covert symbol that early Christians employed to denote their affiliation with one another in the early days of the Christian church.
Why is it called "Christmas"?
The name "Christmas" carries a rich history, originating from the Old English phrase Cristes maesse, which translates to "Christ's Mass." Thus, when we utter the word "Christmas," we invoke not only the vibrant festivities that mark the season but also the sacred observance of a moment that holds profound significance in the Christian faith, connecting us all in a tapestry of shared celebration and reverence.
What's the origin of Santa Claus?
Behind the Legend of Santa Claus is a touching and admirable tale about a remarkable monk named St. Nicholas. Born in Turkey around A.D. 280, St. Nicholas displayed immense compassion. He dedicated his inherited wealth to embarking on journeys to the countryside, providing aid to the impoverished and ailing. His legacy is intertwined with being the protector of children and sailors.
St. Nicholas was first mentioned in American popular culture in the late 18th century when Dutch families began to commemorate the anniversary of his death. In Dutch, Saint Nicholas is referred to as "Sint Nikolaas" or "Sinter Klaas" for short. This abbreviation served as the inspiration for the name "Santa Claus".
In 1822, an Episcopal minister named Clement Clarke Moore wrote a Christmas poem titled "A Visit from St. Nicholas." This poem depicts Santa Claus as a cheerful man who rides a sleigh pulled by a reindeer to bring toys to children's homes.
Santa Claus became immortalized in 1881 when Thomas Nast, a political cartoonist, depicted him wearing a red outfit, a white beard, and carrying a sack full of toys, all inspired by Moore's poem.
The Origin of Santa Claus
Conclusion
The rich and enduring history behind cherished Christmas traditions is truly remarkable, don't you think? You've covered everything from the roots of Christmas, diverse festive customs, and holiday cuisines, to the captivating narrative of Santa Claus. Your knowledge is brimming with festive insights that are sure to wow your holiday guests. Now, why not compile your wealth of Christmas wisdom into an entertaining quiz and invite your guests to partake in the festive fun?