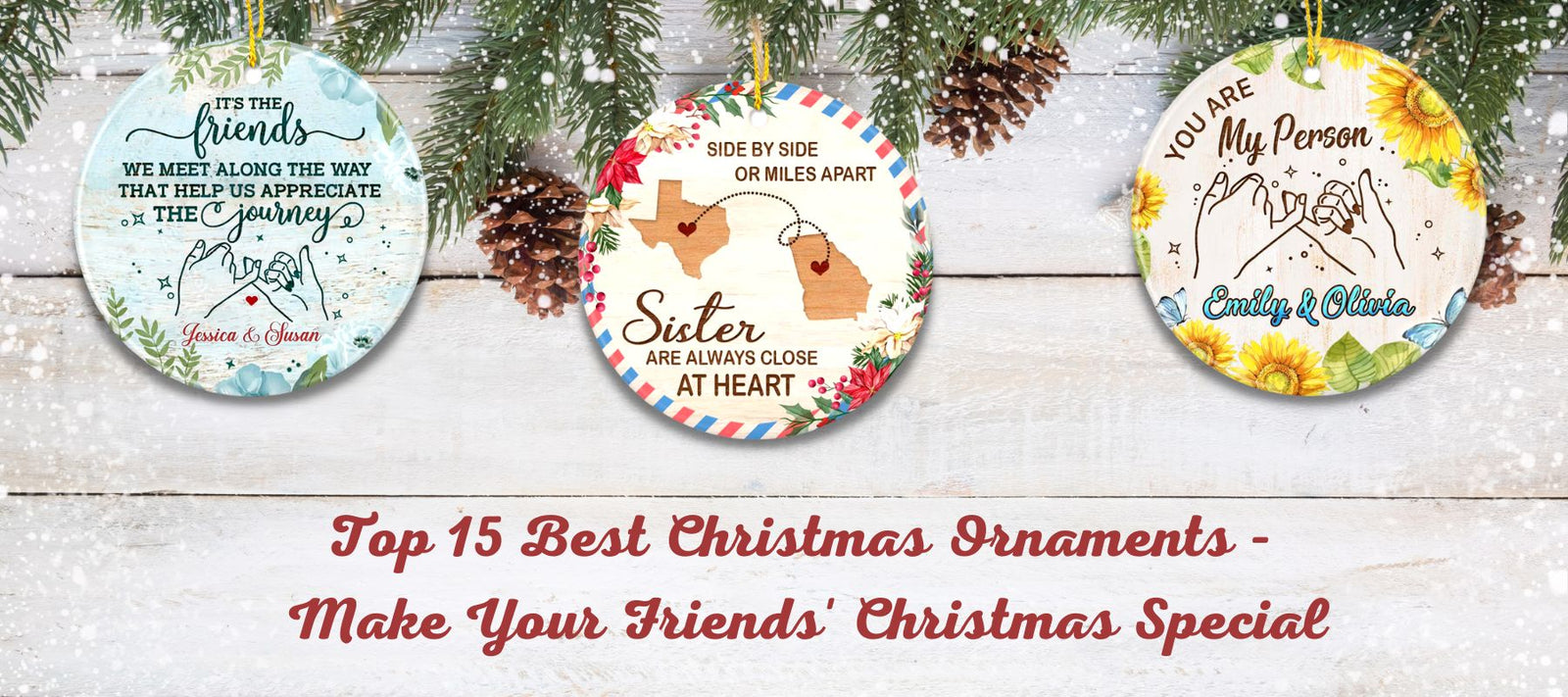 Friends play a vital role in everyone's life. We love to share every joy and happy moment with them. Sometimes you need to appreciate your pals to make them realize how much they mean to you—knowing that your friends are always here to support you through thick and thin. It would help if you did the same for them. On the joyous event of Christmas, you can buyfriends Christmas ornaments.
As we all know, Christmas is the occasion we wait for the whole year. We love decorating our houses with Christmas trees and fake snow and giving presents to our near and dear ones. When we talk about the occasion of Christmas, how can we forget about Christmas ornaments? 
Christmas ornaments are the most crucial part of this joyful event. Everyone wants to receive the best gift from their friends and other loved ones on this beautiful occasion. You might be thinking about giving athoughtful personalized gift to your dear friends. We suggest you purchase beautiful Christmas ornaments for your lovely friends. They will make them happy and surprised. 
Various online websites sell beautiful and personalized Christmas ornaments. Out of many options, choosing the right one for your loved ones is quite daunting. However, we've covered you by compiling a list of the top 15 Christmas ornaments you can give your friends. You can choose according to your friend's liking. 
Let's discuss personalized Christmas ornaments in detail.
Personalized Christmas Ornaments for Friends
Medallion Metal Ornament
Christmas is the best occasion for giving presents to our near and dear ones. Nothing can make your best friend more than elegant personalized Christmas ornaments. If you're looking for a Christmasfriend's ornaments, then a personalized Medallion Metal Ornament is the best and most unique way to celebrate your precious friendship. This unique ornament features your lovely artwork beautifully. You can customize it the way your best friend likes it. You can include her skin color, hairstyle, name, and more.
Personalized Best Friends Gift Ornaments
Christmas is a joyful occasion where everyone wants to receive and give presents. As we all know, Christmas is just around the corner, and we are looking forbest friend gifts. Nothing is better and unique than giving your best friend personalized Christmas ornaments. Personalized gifts always make your loved one feel special because you provide them with all your heart. To celebrate your friendship, uniquely give a customized present to your friends to make them feel special.
Unicorn Pole Christmas Ornament
Everyone gives gifts to their best friends on social occasions like Christmas to make them smile and feel social. Sometimes those gifts make our besties emotional. If you do not want to do that traditional emotional thing, then you can give them a personalized funny gift that is other friends, you ornament a unicorn pole dancer funny gift. This gift is the best option to give to those friends who are going through something in their lives. 
Source: Esty.com
Personalized Best Friends Message Hiking Ceramic Ornament
Another great thing you can do to make your friends feel special is to write a beautiful quote about your friendship, how much they mean to you, and what you think about them. Writing something with your whole heart and expressing your emotions gives extra pleasure to your near and dear ones. To make your friends delighted, write some beautiful quotes or poetry about your friendship on a lightweight white ceramic. It has a gold hanging cord to help your friend turn it anywhere.
You're my person - Personalized Best Friend Christmas Ornaments
Give and receive beautifully customized gifts for your loved ones on every occasion to make that event more memorable and joyful. Friends are the most precious personality of our lives who go through thick and thin. Nothing can be more special for them than customized best friend ornaments for occasions like Christmas, birthday parties, engagements, or anniversaries. Personalize your and your friend's beautiful picture with the thing dear to your best friend. Things can be cars, jeeps, or a pet. 
Friend Are The Family We Choose Ornament
Can you consider your life without your best friends? Absolutely not. No one wants to have her life without their best friends. When you think about giving a thoughtful gift to your friend who will cherish them all year long, you can provide this "Friend are the family we choose Ornament" with some beautiful qualities of your pal. Your friend can use this gift as an ornament or car charm. Customize it in the colors you like because various unique colors are available for the word "Friend."
Good Friend Are Like Star
Thinking about a thoughtful gift for your friend to make them unique and joyful is quite a daunting process, but yes, you've to do it because you love them. Nothing can beat personalizedbestie ornaments when it comes to giving presents. At special events like Christmas, gift-giving is a grand gesture to show your love to your special ones. Give your and your friend's beautiful picture with the item you and your friend are obsessed with, and make a customized gift for your lovely friends. 
Best Friend Ornament Long Distance Friendship
This is another excellent ornament for Christmas to give your friends to celebrate your friendship. Your friend can decorate her home with this beautiful decorative item. It is easy to hang the Christmas tree and provide an attractive look to your friend's place. Beautiful decorations and ornaments are a perfect way to celebrate Christmas or any other special occasion. Make your friends happy by giving this beautiful ornament that includes a gold string for hanging. 
There Are Friends - There Is Family Ornament - Christmas Gift
Christmas is the best occasion of the year we wait for. We love to think about thoughtfulbestie gifts for our lovely friends and family members to give on the day of Christmas to make them feel special. Nothing can make a perfect and unique gift than a personalized Aluminum ornament to give your beloved friends and loved ones. You can purchase it for yourself to décor your home and enjoy. 
Friend Journey - Personalized Best Friend Ornaments
Just hanging out this holiday season? Celebrate the special times and memories you've shared over the years with your best girlfriend, by giving her this personalized Christmas ceramic ornament as a gift. It will be a memory she'll love hanging on her tree year after year.
Co-worker Christmas Gifts- Bacon Gifts
Some friends aren't only your friends, but they are sisters by heart. We sometimes feel very close to them, like we have known them for ages. For those friends, thinking about a unique and special gift for special events like Christmas, birthdays, anniversaries, and engagements isn't easy. Are you looking for a unique yet perfect Christmas gift for your friend? Your search ends here. Personalized ornaments with printed names of your friends and you are an ideal choice to make their event memorable and unique. 
Source: Esty.com
Friends Give Hope Christmas Ornaments
If you are not looking for a traditional gift to give your friends on Christmas, then we've got you covered. We suggest you buy customized ornaments on which you can print your friends and your favorite pictures, names, or anything you and your friend are obsessed with. These types of ornaments also include a hanging cord which is used for hanging it anywhere. A lightweight aluminum photo ornament is perfect for making any occasion special. 
Best Friend Custom Photo Christmas Ornaments
Christmas is just around the corner, and everyone wants a unique and special gift for their loved ones. It would help if you also considered a thoughtful gift for your friend to surprise them on Christmas. Forget mediocre and old-school stuff and glam up your friend's Christmas tree with a customized photo of Christmas ornaments by giving it as a present. It will make them realize how much you cherish and appreciate their friendship. 
Best Friends photo Collage & Quote Christmas Ceramic Ornaments
Our friends play an essential role in our lives. We laugh, cry, and enjoy ourselves together. We make lots of beautiful memories and capture those precious moments together. For a Christmas gift, what can be more special for you than a photo Collage written with a beautiful picture together? Customize a ceramic Collage with a beautiful quote to give your best friend on upcoming Christmas and make them feel special. This gift is a perfect way to make your friend happier. 
Source: Zazzle.com
Soul Sisters - Best Friend Ornaments
This personalized "Soul Sisters" Christmas ornament gift is a wonderful way to honor your lifelong friend and express how much she means to you. The stylish and memorable ornament comes in packs of 1, 2 or 5 —and is crafted of porcelain ceramic that gleams with gorgeous color. It comes in with an agold hanging cord making it easy to give as a gift or display on your own Christmas tree!
Explore more:
Conclusion
Christmas is just around the corner. Some of us have started thinking about thoughtful gifts fromfriends' Christmas Ornaments. You must consider giving your best friend and other loved ones a unique gift. We have mentioned the top 15 unique Christmas ornaments for your friends. These ornaments are the perfect way to make your friend's Christmas more special and unique. You can customize a photo collage written with a beautiful quote or purchase personalized best friend Christmas ornaments with a hanging cord. Let us know which decoration from our compiled list you liked the most.