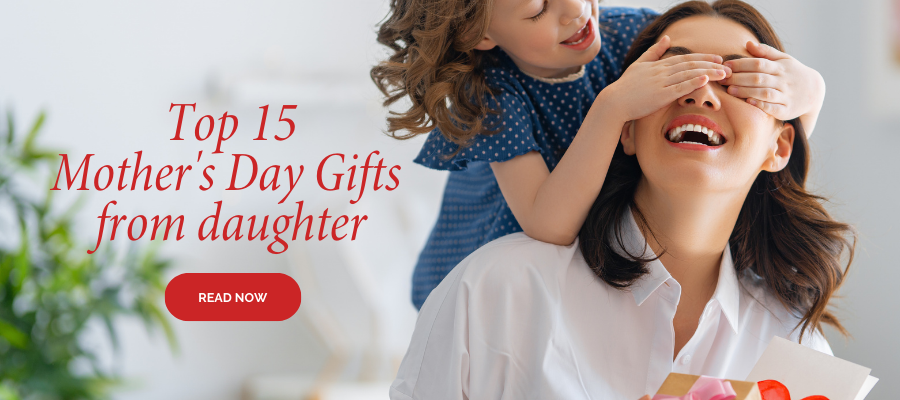 Get creative this Mother's Day and surprise your mom with specially curated presents. Let the Mother's Day gifts from daughter bring back nostalgic memories of the times shared and let the unbreakable bond between the mother and daughter be palpable to her.
No matter how old you are and how old she is, the timeless bond between mother and daughter is difficult to explain. It is always filled with a lot of wonderful memories, incidents, and experiences that are unforgettable. Mother's Day is that perfect day to make her know how grateful and thankful you are to have her as your mom. The best way to make your mom feel cherished and loved on Mother's Day is by getting her something she likes and gifts for mom from daughter is always the best feeling for a mother, that too on Mother's Day. 
Mother's love is unconditional, it is forever, and eternal. No amount of gifts can match the love and bond you share with her, but it is always nice to make her feel wanted. There can't be a better day than this to show her how much you care and how happy you are to have her in your life.  
What to choose Mother's Day gifts for Mom from Daughter on this day?
Have you decided on what to pick up for your mom this Mother's Day? The day to celebrate all motherhood is just around the corner, and it is a special time of the year when you want to remind your mom of the love and care you have for her. Irrespective of where you live, it is a day to let her know how much you think about her and appreciate all that she has done for you to make you the person you are today.
Make the day memorable and let her carry memories of this day forever. Choose gifts from Unifury.com for her and get them customized. They need not be expensive, what is important is the thought and let that day be a day of love, love, and more love. Given below are 15 Mother's Day gifts that can be given to your mother and watch her getting beguiled and bewitched!
Top 15 Mother's Day Gifts from Daugther that make her cry happy tears
Personalized Family Canvas Print
Do you want the mother and daughter bond to be timeless and eternal? Print your favorite moment on a canvas and let this personalized family canvas print be one of the precious gifts your mother can get from you this Mother's Day. Get a picture of the whole family printed or of just you and your mom, and brighten her day.
Mother's Day Fleece Blanket Gifts for Mom
Give her a warm hug this Mother's Day and that is possible even if you are not with her. Get a fleece blanket with a warm message printed on it. Let your mom find it comforting and feel embraced in your love whenever she reads the message while using it.
You Held Me Close – Personalized Mother-Daughter Blankets
What to get for mom on Mother's Day? Remember your mother's warmth and closeness this Mother's Day and choose a blanket and get it customized into mother-daughter blankets. Watch that smile flit across your mom's face while wrapping it around her shoulder. She will have the feeling you are always with her.
Personalized Blanket Gifts for Mom - You Held Me Close – Bear
Wanting to give sentimental gifts for mom from daughter and looking for ideas? There are a lot of tips here when it comes to deciding on Mother's Day gifts from daughter. A customized you-held-me-close-bear blanket can be one of the choices you can make, it can be different and special with the image of a cute teddy bear on it. She is going to appreciate your thoughtful gesture.
You Gave Life to Me - Personalized mother-daughter blankets
Mother's Day is always special, be it your mother or your grandma, this is an occasion when a lot of sentiments come to the fore and the day is made special by giving gifts for mom from daughter. Customize it into a you-gave-life-to-me mother-daughter blanket and it can be one of the gifts you can choose from our personalized Mother's Day gifts. A lot of sentiments will be evoked when she uses this blanket.
This is us - Personalized Family Canvas Print
There are so many Mother's Day gifts from daughter you can choose from to make the mom-daughter gifts unique and special on Mother's Day. Get your family picture printed on a canvas and gift it to your mom. Watch her basking in the warmth of your love on that special day and always. This is a gift that will make her feel close to you and the family.
Personalized Dog Couple Coffee Mug
Your mom loves her pet dog, so it is easy to decide on a gift for her this Mother's Day. Buy her a coffee mug and get it customized with an image of her pet dog or both together. Watch her enjoy taking a sip as she looks at the picture of her furry friend.
Ceramic Ornaments for Your Loved One
Personalized ceramic ornaments with a message or a good picture can be added to good mother-daughter gifts. Let her decorate her home with these cute ceramic ornaments and you can get her either one or two or even more. Make her feel your love on this day and always.
Personalized Memorial Pillow - Gifts for Mom in Heaven
A personalized pillow gift for mom makes for sentimental gifts for mom from daughter. Pen down a thoughtful message and get it onto the pillow so that she gets to read it every time she rests her head on the pillow. Make your own quotes so that it is personal. Choose the color of the pillow and the font color and size and make it distinctively different.
👍 Read the article to learn how to say Happy Mother's Day In Heaven
Mom-Daughter Framed Canvas
A framed canvas with a mother-daughter picture is a good choice for Mother's Day gifts from daughter. Be creative and innovative and think of curating a frame with a beautiful picture of both of you. Let this framed canvas be a testimony of your lasting love. Your mom is going to feel recharged this Mother's Day.
Family Folded Greeting Card
Mother's Day gifts from daughter are always special and they always make moms feel special and cherished. Pen a few of your personal thoughts for her and get them onto a greeting card. Sending her a greeting card with a personalized message is the best way to make her feel that she is in your thoughts. It is the best way to connect with her, especially if you are staying far away from her. 
Interlocking Hearts Necklace
An interlocking heart's necklace is a perfect Mother's Day gift for your mom. Your hearts are interlinked to each other and what better way than getting her a gift that symbolizes it. You can customize it to give it that personal touch. Use the stones of your choice or her birthstone and come up with a unique design that will leave her surprised this Mother's Day. 
Throw Pillow for the Family
Nothing can measure up to the love you have for each other and gifts for mom from daughter is a good way to encapsulate what you share. Celebrate this bond by giving her a throw pillow gift with a picture of the family or the two of you. Shower her with your love this Mother's Day and see her glowing. Let her bask in the warmth of your love as she puts her head on the pillow and goes to sleep!
Mommy & Me Birthstone
Pick up a trendy bracelet with your birthstones and wear it and go out together this Mother's Day on a shopping spree or an outing. Customize the bracelets with your initials and these bracelets will remind you both of the everlasting love you share whenever you wear them.
Engraved & Personalized Wooden Adventure Box
Get a bespoke wooden adventure box and get it personalized and engraved with her initials, surname, or name for her to store her favorite items. Choose a size you think would suit her needs the best and get it made. You can get it painted in the color you think would blend well with her space or any shade you think she would like to have.
Read more:
15 Best Mother's Day Gifts For Daughters That Will Wow Her
Personalized Mother's Day Gifts For Wife That Surprise Her
Top 15 Unique Mother's Day Gifts For Grandma
Conclusion
We all know there is no greater relationship and love than that of a mother and daughter. If you are confused as to what to gift her this Mother's Day to make her feel precious, we have listed above various options of gifts for moms from daughter to make your mother feel uplifted and adored. There is a wide range of choices we have for you to make her have a good day will enable you to tell her how special she is in your life. Shower her with unconditional love even if you are far away from her. Make the day memorable and let her begin and end the day with happy memories.