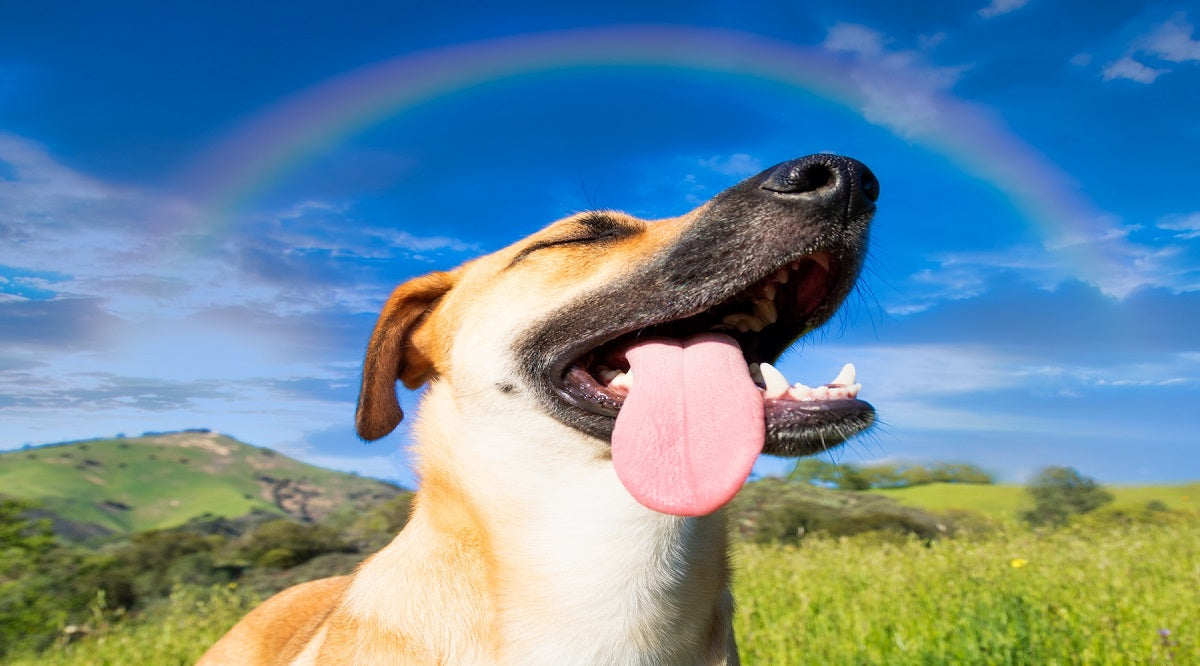 Here are 45 comforting dog rainbow bridge quotes to relieve the soul of grieving pet parents.
Many of us share a strong love and attachment to our animal companions. For us, the pet is not just a dog but also our beloved family member. Bring companionship, joy and joy to our lives. Losing a dog is a terrible time. The relationship we have with our dogs is remarkable. For those who do not understand that relationship, it seems odd. The bond which develops with a dog makes them an important family member. The worst portion of retaining a canine is saying goodbye, and that farewell is frequently too soon. Studies have shown that a cherished pet's death can cause severe psychological issues. For most of us, grief can be overwhelming.
Some words about the death of a dog are hard to express the pain and hurt of pet parents. Everyone copes with grief differently, but that does not make death less painful.
Some people find it difficult to express their feelings because not everyone around them understands the weight of loss if they have never owned a dog. If you are going through such a time of grief, these rainbow bridge quotes for dogs can comfort you.
Best Rainbow Bridge Quotes For Pet
Maybe somebody will not understand how you feel when your pet is away. But this is who you are, outsiders may object, but you absolutely should not keep everything in your heart. These pet death quotes rainbow bridge are just for you and will give you strength to help you through this difficult time.
You have left my side, but you will never leave my heart.
I miss you but Heaven is so lucky to have you.
Comfort dog rainbow bridge quotes
"There is a Rainbow Bridge. It is like dog heaven. We run and play and never get fat. The sun is always warm but not hot, the water is fresh and cold, and we get just to be dogs. We all take turns waiting. The bridge is a beautiful wooden structure that crosses from dog land to the other side when our owners come. Time means nothing to us, which is hard for humans to understand." - Jennifer Probst, A Life Worth Living.
"If there is a heaven, it's certain our animals are to be there. Their lives become so interwoven with our own, it would take more than an archangel to detangle them." - Pam Brown
A piece of my heart lives in heaven. 
Dog death quotes rainbow bridge
My mind still talks to you and my heart still looks for you but my soul knows you are at peace.
Thanks for everything. I have a great time.
My pets are no longer running around beside me. They are flying in heaven.
Forever in our minds, forever in our hearts.
Just saying goodbye for a while till we meet again at the rainbow bridge.
Dog rainbow bridge quote
Your wings were ready but my heart was not.
Best friends come into our lives and leave pawprints in our hearts.
I just hugged you in my thoughts. I hope you felt it.
Losing a true friend is never easy. Know that you are in my sincere thoughts.
After my faithful friend crossed the rainbow bridge, I think what the entrance to heaven must look like.
Dog rainbow bridge quotes
Comfort Dog Rainbow Bridge Quotes & Sayings
Whoever has a dog in life has a treasure, and whoever has a dog has a fortune. If you have ever experienced the loss of a dog, then you know how difficult it can be. For many, grief can be as intense as a family member.
As a friend or loved one, you can send them dog rainbow bridge quotes to help them through this difficult time.
If love alone could have kept you here, you would have lived forever.
You never taught me how to live without you. 
Final goodbye dog death quotes rainbow bridge
My pet dog does not die. It was only when I could no longer remember that my pet dog was truly gone.
There will never be another like you, my lovely dog. I will remember you forever.
We can never keep our pet dog long enough. But we can keep it in our hearts forever.
God has you in his keeping, but we have you in our hearts.
Final goodbye rainbow bridge quotes
A dog's life is short, but we have had a great relationship and many enjoying memories.
"Time is short and sweet with our four-legged companions, but I believe we will meet them all again at the Rainbow Bridge." -  Mark J. Asher, Greatest Clicks: A Dog Photographer's Best Shots.
My beloved four-legged friend has crossed the rainbow bridge and is waiting for the day I come to play with it.
"If there are no dogs in Heaven, then when I die I want to go where they went." - Will Rogers
I always knew the day would come when we would have to part, but know you will be remembered. You left your pawprints in my heart. 
Pet rainbow bridge quotes
You and your dog were lucky to have found each other. That good friend must be resting in heaven now.
My greatest treasure is, was, and always will be my family, we may not be perfect, but I love them with all my heart.
 Rainbow Bridge Quotes & Sayings For Cat
Do not deny or hide your true feelings. The best way to overcome the pain of losing a pet is to stay true to your thoughts. Come face to face with this loss, expressing your sadness because you have the right to do this. Let these heartfelt quotes ease some of your grief.
I am so lucky to have a friend who loves me so much. Your place in my heart will forever be irreplaceable.
Some continue to light up the world long after they have gone.
Rainbow bridge dog quote
Those we love do not go away they walk beside us every day.
Sometimes a very special cat enters our lives and this presence changes our hearts forever. And we can call ourselves blessed for having known them.
Rainbow bridge dog quotes
"All the love you ever gave is waiting for you there at Rainbow Bridge." - Kate McGahan
As long as I breathe you will be remembered.
You are always in my thoughts, my sweet kitty.
I know my kitty is in peace in heaven. So I will live well until the day we meet again.
No longer by my side, you left a pawprint in my heart. 
Rainbow bridge quotes
Messages from the rainbow bridge
Pets always love their owners unconditionally. They certainly do not want to see you so sad about their passing. In addition to the rainbow bridge quotes for dogs, we would like to send you some heartfelt goodbye messages from the rainbow bridge on behalf of your pet.
Mom & Dad, I have not left you. I am simply enjoying the next stage of my life so please do not cry. Rejoice in the fact that I am happy, remember that I will always love you and smile because one day we shall meet again.
Rainbow bridge quotes dogs
TO MY MOM 
Don't cry for me. I will be okay. Heaven is my home now, and this is where I will stay.
Don't cry for me. I am where I belong. I want you to be happy and try to stay strong.
Don't cry for me. It was just my time, but I will see you someday on the other side.
Don't cry for me, I am not alone. The angels are with me to welcome me home.
Don't cry for me, for I have no fear. All my pain is gone, and Jesus took my tears.
Don't cry for me. This is not the end. I will be waiting here for you when we meet again.
Mom & Dad, I know you cannot see me but trust me, I am still here I walk beside you every day my love keeping me near. I often see you crying when you softly call my name but I am right beside you whispering " We only part to meet again".
Rainbow bridge saying
To my Mom & Dad,
I was just a pup when we first met, from the start, you picked me up and took me home and placed me in your heart. I loved the good times we had together and shared all life could throw, but years passed too quickly, and my time has come to go.
I know how much you miss me, I know your heart is sore, and I see the tears that fall when I am not waiting at the door. You always did your best for me your love was plain to see, for even though it broke your heart you set my spirit free. So please be brave without me, one day we will meet once more, for when you're called to heaven I will be waiting at the door.
Rainbow bridge sayings
Don't cry for me, Dad! I am Ok!
I can run like a puppy!
I can even fly with my new wings!
Mom, we may not be together in the way we used to be. We are still connected by a cord no eye can see. So whenever you need to find me, we are never far apart. Suppose you look beyond the horizon and listen with your heart.
Dear Dad & Mom, we love you to the moon and back. 
Short rainbow bridge quotes
Wrapping up
Grief has a way of making us feel alone. Rainbow bridge quotes for dogs from others have a way of helping us see that we are not alone and that we are not the only ones struggling with grief. Maybe they do not make the pain fade away, but knowing someone by your side can provide some comfort.