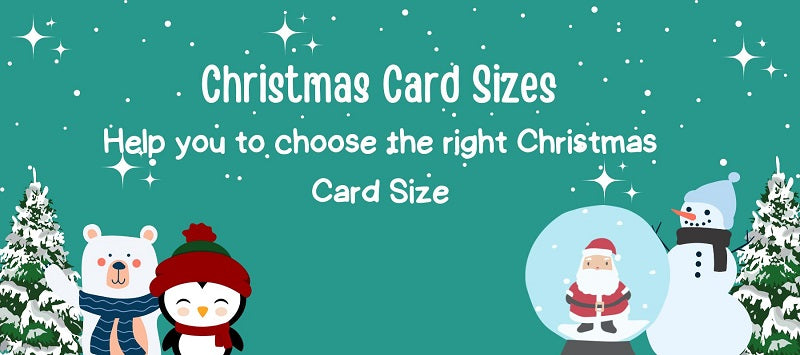 When it comes to sending out Christmas cards, choosing the right size can make a big difference. Too small and your message may get lost, too large and it might be overwhelming. That's why it's important to consider the size of your Christmas card carefully. In this guide, we'll help you choose the perfect size for your holiday greetings. Whether you're sending out a few cards or a hundred, our tips will ensure that your cards look their best and spread the joy of the season to all who receive them.
Christmas Card Size Chart
If you're planning to send out Christmas cards this holiday season, it's important to choose the right size. Not only does the size affect how your card looks, but it can also impact the cost of printing and mailing. To help you make an informed decision, we've put together a handy chart that shows common Christmas card size and what they're commonly used for.
Average christmas card size
How To Find The Right Christmas Card Size
Christmas card envelope size
If you're feeling overwhelmed by the variety of Christmas card size available, don't worry - we've got you covered. Here are some of the most popular choices this year based on the purpose of your card:
9 x 6
Looking for a card that makes a big impact? A 9 x 6 size can do just that. This oversized card is perfect for showcasing family photos or adding extra design elements. It's also a great choice if you want to include a longer message or holiday newsletter. While it may require a slightly larger envelope and additional postage, the wow factor is well worth it.
8 x 5
The 8 x 5 size is a tried-and-true classic for Christmas cards. It's a versatile size that can accommodate a range of content, from simple greetings to photo cards. It's also a convenient size for mailing, as it fits easily in standard envelopes without requiring additional postage. If you're looking for a safe bet, the 8 x 5 size is a great choice.
7 x 5
Standard christmas card size
Short on space or looking for something that's easy to display? The 7 x 5 size is a great option. It's a compact size that can still accommodate photos or simple messages, and it's perfect for those who want to conserve paper and ink. It's also a great choice for those who want to send their cards in smaller envelopes without needing additional postage.
5 x 5
Typical christmas card size
For those who want something a little more unique, a square 5 x 5 size is a fun and creative option. It's a great choice for showcasing photos or adding more design elements to your card. However, keep in mind that square envelopes require additional postage, so factor that into your decision.
5 x 3.5
What size are christmas cards
If you're sending out thank you cards after the holiday season, a smaller 5 x 3.5 size can be a great choice. It's compact and easy to include in gift bags or with other presents. It's also a great option for those who want to express their gratitude without sending a full-sized card. Just be sure to keep your message short and sweet, as this size doesn't leave much room for lengthy updates.
Frequently Asked Questions
Where to Purchase Greeting Christmas Cards Online?
Absolutely! Buying greeting cards online is a convenient and easy way to stock up on cards for any occasion. With just a few clicks, you can browse through hundreds of designs and styles from the comfort of your own home. Many online retailers offer a wide range of cards to choose from, including holiday cards, birthday cards, thank you cards, and more. 
You can even personalize your cards with your own messages and photos, making them truly unique and special. Plus, many online retailers offer fast shipping and delivery options, so you can have your cards in hand in no time.
Where to Find Online Greeting Cards?
There are plenty of great options for ordering greeting cards online! Some of the most popular online retailers for greeting cards include Etsy, Shutterfly, Minted, Zazzle, and Hallmark. Each retailer offers a unique selection of designs and styles, from traditional to modern and everything in between. 
Many also offer customizable options, so you can add your own personal touch to your cards. When choosing an online retailer, be sure to read reviews from other customers and check shipping and delivery times to ensure you get your cards on time. Additionally, keep an eye out for any special deals or promotions that may be available to help you save money on your purchase.
How to write a brief and delightful Christmas card message?
When it comes to writing a short and sweet Christmas card, it's all about expressing your warm wishes and spreading some holiday cheer. Some simple yet heartfelt messages you can include in your card might include phrases such as "Wishing you a Merry Christmas and a Happy New Year!" or "May your holiday season be filled with love and joy." 
You might also consider adding a personal touch by referencing a shared memory or experience, such as "Thinking of all the fun times we've had together this year - Merry Christmas to a great friend!" Whatever message you choose to write, make sure it's sincere and comes from the heart. 
Remember, the most important thing is to let your loved ones know how much you care about them during this special time of year.
How Do I Address the Inside of a Greeting Card?
Addressing the inside of a greeting card can vary depending on the occasion and your relationship with the recipient. For a formal occasion or with someone you may not know very well, it's best to address them by their title and last name, such as "Dear Mr. Smith." If the recipient is a close friend or family member, you may opt for a more casual greeting such as "Dear John." 
When it comes to the actual message, make sure to personalize it by mentioning the occasion or referencing something specific to your relationship with the recipient. Sign off with a warm closing such as "Warmest regards" or "Yours truly," followed by your name or a signature.
What's the Best Way to Sign off a Card?
Signing off a Christmas card size is just as important as what you write inside. It's the perfect opportunity to leave a lasting impression and let the recipient know how much they mean to you. Depending on the tone and occasion of the card, there are several ways to sign off. 
For a more formal card, a classic "Sincerely" or "Respectfully" works well. For a more casual card, you might try "Best wishes," "Warmest regards," or "Yours truly." If you're feeling playful or humorous, you might consider "Love and laughter" or "Hugs and high fives."
Wrapping up
Choosing the right Christmas card size may seem like a small detail, but it can have a big impact on your holiday greetings. Whether you're looking to stand out with a unique size or want to keep it traditional with a standard size, our guide has got you covered. By following our tips, you'll be able to create a beautiful and memorable card that will make your recipients feel the warmth and joy of the holiday season. So don't let size be a worry - get started on creating your perfect Christmas card today!