It is no secret that humans love dogs and vice versa, it is a relationship that needs no explanation. For dog lovers, dogs are not pets, they are a member of their family and the bond between them is palpable to everyone around them. It is a happy and comforting moment for them to be welcomed at home by a dog who can't contain its joy when the owner opens the door. The wagging tail, the squealing barks, and the leaps give them an immense joy that is unexplainable.
There is no better way to make a dog lover happy than giving wonderful gifts to their dogs, after all as the saying goes, dogs are a man's best friend. For someone who loves dogs, their presence in their lives will be equal to that of a family member. Hence getting a gift for their dog when you visit them will be as good as showering them with love and gifts.
Now that brings us to the topic of the types of gifts you can get for these dog lovers. The choices are many, gone are the times when choosing a gift for a dog lover was difficult. Nowadays you can get custom gifts and make them distinctive by adding your personal touch. You can make it funny, emotional, warm, and anything you want it to be. These custom gifts for dog lovers can be anything ranging from a funny pillow to a personalized bowl, and they are going to make the dog owner smile.
Jump to: 
12 Customized Dog Gifts That Will Melt Any Dog Lover in your Life
Customizable gifts always speak of how much thought you have put into choosing a gift for your dog lover friend or family member. Sometimes it is these small gestures that will make your friend or family member happy and loved because doing something involving their pet dog will mean the world to them. There are so many options for you to make a good choice of a gift.
These gifts are the best way to capture the love shared between the dog lover and the pet dog and they can be timeless and refreshingly original. Go ahead and choose gifts for them that make their moods uplifted and elevated. Let their homes be shared with the love of their lives, the pet dogs, and let all the spaces indoors and outdoors be alive with these gifts that speak of their love and care.
Watch more: 31 Best Personalized Pet Gifts That Pet Owners Will Certainly Appreciate
Given below are 12 personalized dog gifts that can make any dog lover happy and excited. No gift can surpass the ones which have anything to do with their pet dogs and their images. Pick one from the below list and see them getting excited as you gift it to them. They are good ones to remind the dog lovers of the loyalty and love showered on them by their pets.
1. Personalized Dog Mug – Dog and Dog Lover – Hiking Mountain
This personalized dog mug for your dog lover loved one, family member, or friend is a thoughtful surprise. Get the image of their dog on a hiking background. It is an excellent way to remind them of their outdoor times together. Maybe they will feel their pet is accompanying them on their hiking trip and they will not miss their presence while being away from them. Experience the joy on their face as they sip their tea, coffee, cocoa, or soup.
2. Custom Dog Canvas Print – Dog and Dog Owner – Wooden Dock 
Get some pawesome dog gifts to give all dog lovers. Celebrate the bonding between the two with a customized canvas print that has the image of their four-legged friend. It is a good way to capture their bond to eternity and make them happy. Looking at it is the best way for these dog owners to remember the love of their pet dogs.
3. Personalized Ceramic Dog Christmas Ornament
Spread the cheer, love, and happiness for your dog lover by getting them a customized ceramic ornament to hang in their home. Get their image onto the ornament or have a message printed on it. Let it add to the warm vibe of their home and give a unique look.
4. Personalized Memorial Wooden Pet Collar Frame
Losing a pet over is never easy. Having a beautiful keepsake to look at every day can help ease that grief a little bit. Our Memorial Standing Frame is designed to be a heartfelt tribute to your furry companion.
5. Pets Mug with the Whole Family – Wooden Dock
Get a personalized pet mug inscribed with images of the whole family posing with the pet dog. These customized dog gifts are excellent gift choices for your dog lover friend or family member. Watch them enjoy their drink while sipping from this mug gifted by you and feel the warmth spreading all over as they look at the picture on the mug.
6. Custom Funny Dog Doormat
Wondering what to gift a dog lover friend or family member? Custom dog gifts are an excellent choice to gift and bring a smile to their faces. Think different and be creative. Get a customized dog doormat with a funny image of their pet. Let the appearance of their main door be unique with this and let them feel their pet dog is welcoming them home.
7. Personalized Dog Toy      
Squeak! Squeak! A squeaky toy is a good gift to give your dog lover friend or family member. Customize it with the name of their dog, its images, or any other picture. Hear them go squeak squeak with the love of their lives and watch them getting entertained and entertaining their pet with the cute dog toy you have given.
8. I Woof You Mug
What better way can there be to say 'I love you' to your dog lover friend or family member than gifting them with a personalized I woof you mug. Get the 'I woof you' lines printed on a colorful backdrop. The image of their dog and the words will increase their heartbeat while sipping their favorite drink, morning, evening, and night.
9. Custom Dog Notepad
These custom pet gifts are special for that special dog lover person or family member in your life. Let a wonderful picture of their pet be on the cover of their notepads. Get multiple ones printed so that they can use them in the office, at home, and give some to their colleagues. That way the feeling of having their pet with them always will be palpable.
10. Personalized Dog and Dog Lover T-Shirt – Beach
Let them go on a morning or evening walk on the beach with their pet wearing this personalized dog and dog lover t-shirt gifted by you. Let them get embraced in the love of their pet dog as they enjoy their walk, watch the sunrise or sunset, and feel the sea breeze. 
11. First Steal Your Heart then They Steal Your Bed Fleece Blanket
A customized fleece blanket with a warm message or a good design with their picture is another way of pampering your dog lover friend or family member. Let them bask in the warmth of their pet dog's love and feel its presence while using this soft and cozy blanket.
12. Personalized Funny Dog Mug
Personalized dog gifts are the best way to make dog lovers feel happy and joyous. A customized funny dog mug with a humorous message or a funny picture can be a thoughtful gift to give for your dog lover friend or family member. Watch them getting an energetic start to their day as they begin it by sipping tea or coffee from this funny dog mug.
More to read:
12 Thoughtful Personalized Dog Gifts Dog Owners Will Treasure Forever
Goodbye can be painful, losing a pet can be one of the most traumatic things that can happen to anyone who has pets and is a dog lover. The love, the feeling, the connection, and the bond getting snapped suddenly can be painful and the grief is unexplainable. They can be inconsolable and a good way of comforting them will be to get them a gift that is connected to their pet or revolves around an activity they used to do with their pet.
Getting personalized gifts for dog lovers can be the best way to console them and make them come to terms with their loss. There are many unique and tasteful gifts you can get for them to make the dog lovers comforting and at peace. Why no use these ideas to comfort them and make them feel happy by choosing a gift from one of these 12 personalized dog gifts. Let them feel cherished and treasure your gift forever and ever and create warm memories.
1. Personalized Dog Memorial Ceramic Ornament – Rainbow Bridge 
This meaningful dog memorial ornament is a gift your dog owner loved ones are going to cherish forever. Make it personal, get your artwork or a charming image of your pet printed on it. It is a good give away present to any dog lover friend or family member who is reeling under the grief of their loss. Let it adorn their homes and keep the love for their pet alive and lasting.
2. Custom They Still Talk About You Coffee Mug
Thinking of picking up customized dog gifts for your dog lover special one? There are so many options to choose from. Get a custom coffee mug, get it inscribed with a warm conversation between the two of them, a loving image, or the initials of their names interlinked.  Let this make a difference in their lives as they drink from this mug.
3. Waiting at the Door Framed Canvas
Nobody waits patiently like that of a dog waiting for its master. The bond is indescribable, it cannot be explained, it must be seen and felt, to know what it means. Capture that moment and frame it to eternity. A framed canvas with the image of the dog waiting at the door is a perfect one to gift any dog lover. It is the best way to remind the dog owner of his pet and its unconditional love towards them.
4. What the Entrance to Heaven Must Look Like Pillow
Looking for ways to make your dog lover friend or family member remember their pet always? Enhance the vibe of their living room and bedroom with a customized what the entrance to heaven must look like pillow. Print an apt image or a message that is memorable and let their homes be filled with memories of a canine love that is everlasting and tangible.
5. Pet Forever Loved Collar Tag and Picture Frame
A pet forever loved collar tag a picture frame is one of the personalized dog gifts you can gift a dog owner. Let them celebrate and cherish the love of their pet with the collar tag. An uplifting message can be scribbled on the side of the frame to make it personal and exclusive. This is going to melt the heart of your dog lover friend or family member.
6. Custom Photo Ceramic Ornament
Get a photo ornament in case you are looking for ideas to gift your dog lover friend or family member. Customize it with a personal message and picture or choose from your personal artwork. Let it add color the home of your special dog lover person or family member indoors and outdoors. Let the love and the memories of their per linger everywhere around them.
7. Personalized Pet 3D Engraved Crystal
Having trouble choosing a gift for someone who has lost their pet? A personalized pet 3D engraved crystal is a good choice. Having a crystal image of their pet in their showcase will make them swell with pride and joy. Let it glow and shine leaving rainbow color memories all around their home.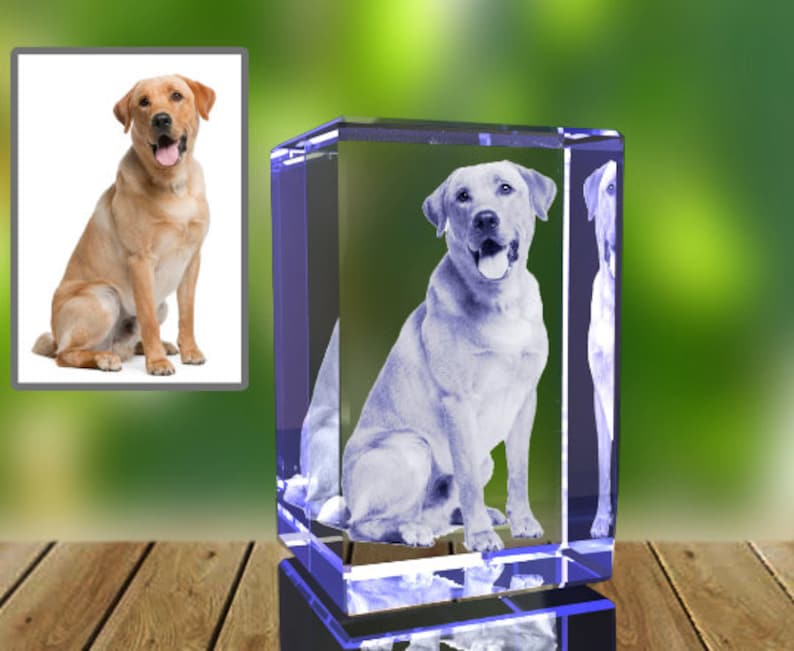 8. Personalized Dog and Human Memorial Fleece Blanket
Get them a warm and comfortable dog and human memorial fleece blanket that is functional to gift it to your dog lover friend or family member. Print it with either a loving image of their pet or an inspirational message that will remind them of the times they have shared with their pet while it was alive. This is an accessory that is useful in all homes, go ahead with your choice and make them happy.
9. Favorite Hello Hardest Goodbye Mug
Gift the dog owner a mug with a customized message which says you were my favorite, and it was hard saying adieu. You can choose a good backdrop image and this thoughtful gift will bring love and light into their lives after the loss of their pet. It is going to be a soothing balm on their pain.
10. Pet Pawprints Desk Picture Frame and Imprint Kit
Choose a hinged desk picture frame and an imprint kit for your dog lover friend or family member choosing from personalized dog gifts. Creating their pet's pawprints and keeping it next to their dog's picture is a good way of remembering their dog and staying connected to it. The pawprint imprint is a nice way for them keep the memories alive.
11. Personalized Dog Memorial Canvas Gift
Dogs always wait at the door till their owner returns home. Getting a picture printed on a canvas and presenting it to your dog owner friend or family member is a good gesture to make them reminiscence the good times they shared with their pet dog.
12. Over the Rainbow Bridge Stone
Have the name of the pet dog inscribed on a pebble or a stone. Let the backdrop have raindrop colors and add some glitter to those shades. Let this rainbow bridge stone heal them from the grief of losing their loved pet and revel in the wonderful times shared together.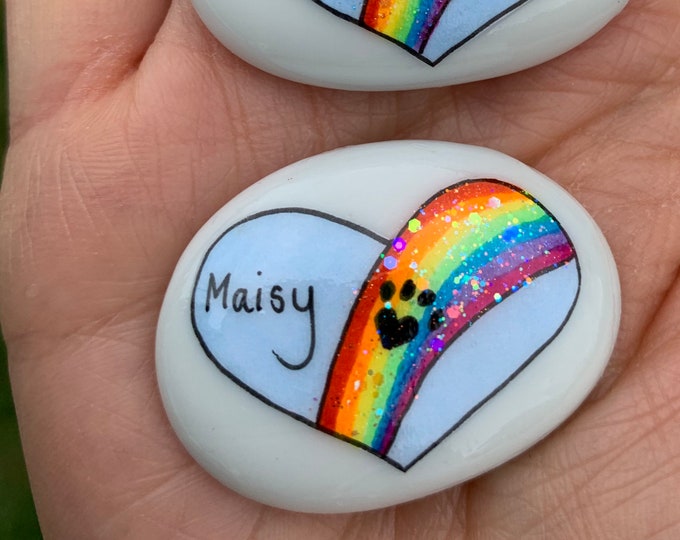 Wrapping It Up
The bond between a dog lover and a dog can be understood only by them. If you understand the sentiments of your dog lover friend or family member, get them a gift to feel special about the bonding, they share with their pet dog. There are a lot of incredible gifts you can choose from to make dog lovers happy and contented.
Personalized gifts for dog lovers are available in plenty everywhere. There are a lot of choices, and you can get customized gifts to make it extra special and memorable. What is stopping you? Get into action and pick up the gift you think your dog lover friend or family member will like the best. Personalize it the way you think they would like it and see it brighten their day.
Related collections: