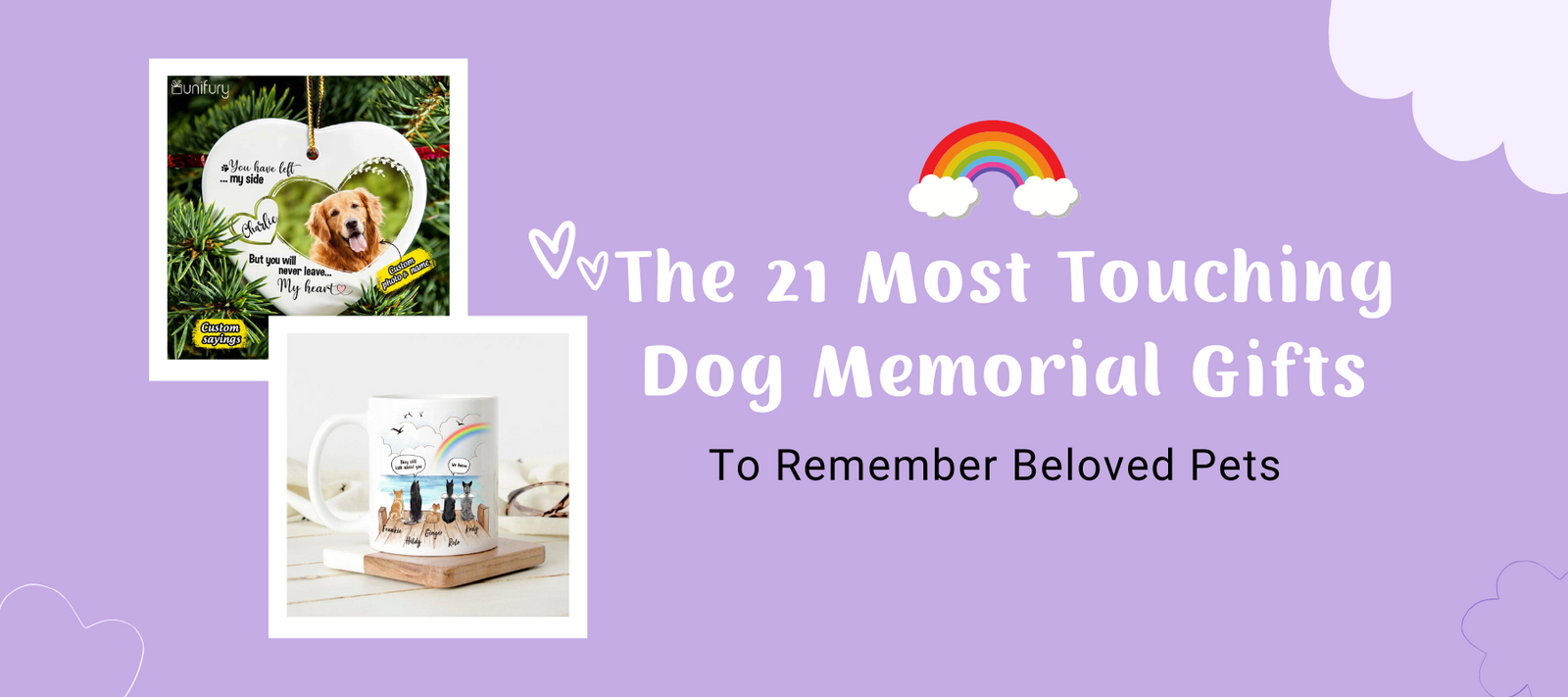 Dogs are usually best friends to their owners because they are social creatures who thrive on receiving attention and affection. They are as much a part of the family as any other member, and the death of a pet is the most devastating time for any family or a pet parent.
If you know someone who recently lost a beloved pet, it can be as difficult as losing a family member or close friend. However, sending a thoughtful gift can help ease the loss of a pet.
The recipient's heart will be somewhat filled if they receive thoughtful memorial dog gifts that evoke feelings, emotions, and memories. As a tribute to the life of their deceased pets, dog memorial gifts are treasured by their owners.
In this guide, we will discuss some suggestions for pet loss gifts that will bring comfort and support to the bereaved.
The term "rainbow bridge" is use to refer to a poetry that sympathizes with pet owners who have lost a beloved companion. Rainbow bridge is believed to be a pet's final resting place. Those who have lost a pet can get a peek at what life is like in the hereafter by reading the poem(s) of the rainbow bridge. To establish the relevance attached to losing a pet, a national memory day has been established: Rainbow Bridge Remembrance Day, which takes place on August 28.
Some pet parents believe in the rainbow bridge after their beloved pet dies, but others do not. That's something to keep in mind if you're trying to be a good friend to someone who has lost a cherished pet.
Significance of the Rainbow Bridge
In the words of The Washington Post, "This bridge is a mythological crossing purported to connect heaven and Earth—and, more importantly, a location where heartbroken pet owners finally reconnect with their lost animal pals."
It's common for people to use the phrase "passing over the rainbow bridge" to describe the loss of a pet on social media. Some individuals take comfort in this saying or poetry while mourning the loss of a pet who was like a part of the family to them.
You might use the poem to support a buddy going through a difficult time due to pet loss. You can utilize rainbow bridge poetry as a starting point for inquiries if your friend or loved one remarks that it is connected with them.
One of the most helpful things you can do for your friend is talking to them about their loss. What questions may you ask your friend as you discuss the poem?
How is that helpful?
How was it beneficial to you?
What did you learn from it?
What did you get out of it?
Is the poem an accurate depiction of your current situation?
More to read:
21 Most Heartwarming Dog Memorial Gifts
The best way to help pet owners cope with the loss of a cherished pet is to send them a few unique presents. Experiencing the sadness of losing a beloved pet is an essential part of moving on.
It's more than just a collection of thoughtful Dog memorial gifts and souvenirs; these items from Unifury, Etsy, and Amazon are heirlooms passed down from generation to generation.
1. Talk about You Conversation Mug - Wooden Dock
To teach us about love and loss, a dog enters our lives and departs. Dogs are our favorite way to say hello and the most difficult person to say goodbye to. Dog owners can't help but wonder how they'd cope with life without their furry family members.
For someone who lost one of his four-legged children, it's normal to belief that he crossed the rainbow bridge to the other side of life.
One of the most thoughtful gifts you can give a dog owner who has recently suffered a heartbreak is one of these men's and dog's mugs. A Custom Still Talk Dog Memorial Mug is a lovely way to honor the memory of our beloved canines. It's also a wonderful keepsake for any dog lover you know!

2. Personalized Dog Memorial Rainbow Bridge Canvas Print
In our unique memorial rainbow bridge canvas print, you'll see the exact moment your dogs with wings sat side by side on the rainbow bridge. You can personalize it for as many dogs as you want with one of the following memorial phrases:
We'll see each other again at the rainbow bridge when our time is done.
You were the best. And I'd like to say my most heartfelt goodbyes.
But my heart was not yet ready for you.
Make the most of every sip with this personalized product that brings you back to the good old days with your pet. Making this a present to a pet parent who lost their dog will also refresh their cherished moment with the beloved dog.

3. Waiting at the Door Mug - Rainbow Bridge
One of the most heartbreaking situations is the death of a beloved pet. Buying this Dog Memorial Coffee Cup for a friend who recently lost a dog would encourage him to remember his cherished pet. You will also give him the chance to say farewell to the dog in the best possible way, and serve as a reminder of how precious those fur babies are.
Your loved ones who have experienced the heartbreaking loss of a wagging tail companion will appreciate this Custom Dog Memorial Coffee Mug as an eternal present.

4. Custom Photo and Saying Ceramic Ornament
Please don't assume they've parted ways even after our beloved pet spoke their final goodbyes to us. They will always be there for you and keep an eye on you. Any dog owner who has suffered the loss of a beloved pet will treasure this personalized ornament as a sentimental keepsake. It's both reasonable and lovely.

5. What The Entrance To Heaven Must Look Like T-shirt
It's impossible to deny the deep bond you share with your pets, so losing one is heartbreaking. However, with this T-shirt gift, we hope that you and your friends will find a truly meaningful gift that will brighten your day.

6. Custom Memorial Stone
You can help your buddy cope with the loss of your pet by gifting them a personalized memorial stone. The granite used to make this monument stone is black, polished, and dazzling.
They can be placed anywhere in your home, in the yard or garden. It equally serves as a weather-resistant stepping stone for the garden.
Personalized Human Memorial Stones (Source: ODB Store - Amazon)
7. Personalized Pet Slate Heart
This personalized pet slate heart can also be a wonderful gift for a mourning family.
There is the possibility that it could be a new addition to our pet memorials. It's a great way to remember a cherished pet with these huge slate hearts engraved with their name and a personal message.
Large Personalised Pet Slate Heart (Source: TheImageIndustry - Etsy)
8. Customized Human and Dog Memorial Framed Canvas - Rainbow Bridge
A pet's absence from one's life doesn't mean they're gone from our thoughts or hearts; rather, we know that they're still with us in spirit.
Send your condolences with this heirloom-quality custom-framed canvas! After the death of a beloved pet, grieving families may benefit from this framed canvas print of a bespoke dog tribute. It's also a thoughtful memorial gift for a beloved pet who has passed away.

9. Favorite Hello Hardest Goodbye Mug - Custom Saying
Favorite Hello Difficult One! For the family of a loved one who has passed away, the Goodbye Mug is an excellent way to bring a smile to their face. Anyone who has lost a pet will be grateful for this type of present.

10. Pet Memorial Sign
This lovely pet memorial sign is a beautiful souvenir to commemorate the life of your beloved dog or cat. They'd also make thoughtful memorial gifts for friends or family members who've recently lost a beloved pet. High-quality, finished wood was used in the construction.
It is easy to order and customize as your beloved pet memorial gift.
Pet Memorial Sign (Source: HeatherMayCreates - Etsy)
11. Small Sleeping Dog in Angel's Wing Garden Statue with Inscription
Getting a little sleeping dog in an angel's wing garden statue with an inscription is the most moving way to memorialize the memories of a cherished pet. Without this dog, you wouldn't always be the person we are now. The inscription on this memorial pet statue reads, "A blissfully sleeping dog, wrapped in an angel's wing."
Quality resin is used to create a piece that can be used both indoors and out and will retain its aesthetic appeal for a long time.
Small Sleeping Dog in Angel's Wing Garden Statue with Inscription (Source: Napco Store - Amazon)
12. 
Pet Memorial Wind Chime
A custom wind chime is a beautiful way to honor the memory of a cherished pet that has passed away. The memorial wind chime will remind you of your cherished pet whenever the wind blows. Those lovely and serene melodies will jog your memory of the wonderful times past.
Pet Loss Gifts (Source:

SFSea

 -

 Etsy

)
13. Dog Memorial Plaque
As we have previously stated, the loss of an animal friend can be as devastating as a human one. If only we had dog memorial plaques, we could relive the fond memories that our four-legged pals have left us with.
Pet Loss Gifts (Source: SFSea - Etsy)
14. They Still Talk about You Conversation Fleece Blanket - Mountain Hiking 
Dog parents will appreciate the thoughtfulness of this personalized memorial blanket, which serves as a daily reminder of a beloved pet's new life over the rainbow bridge. Recent days begin with the most poignant reminders of our beloved pets, such as their paw prints.
15. Pet Memorial Rainbow Suncatcher
Another lovely memorial for a cherished pet is a suncatcher rainbow pet memorial with paw prints. Four paw prints are set in the glass of this rainbow monument to represent the pet's passage forward. Another piece of colored glass with a paw pattern imprinted on it. Yet another excellent memorial gift for a beloved pet who has passed away.
Pet memorial rainbow suncatcher (Source: GlassbyDebbie - Etsy)
16. Personalized Custom 3D Holographic Photo
This is unquestionably one of the most creative pet sympathy gifts. This pet bereavement gift has a professional 3D engraving and an optional text etching of your choice to evoke lovely memories of precious moments shared with a beloved pet.
Personalized Custom 3D Holographic Photo Etched Engraved Inside The Crystal with Your Own Picture (Source: A&B Crystal Collection Store - Amazon)
17. Personalized Message in a Bottle
In addition to having three of your most treasured images professionally printed, you may also include a personal note on the back of the photos in the bottle.
It's a beautiful ornament and a thoughtful pet memorial gift for loved ones to keep forever with these beautiful photo bottles. Display them on a workstation, on a bookshelf at home – or even in a handbag and take them with you wherever you go!
Personalised Message in a Bottle (Source: EdgeInspired - Etsy)
18. Personalized Dog Memorial Canvas Print - Waiting at the Door
You and your four-legged furry buddies share an unbreakable bond. And their loss might indeed be so unbearable. Additional dog loss memorial gifts to give to those in mourning is a Personalized Dog Memorial Canvas Print, which will help them enjoy and recall the wonderful times they shared with their beloved companion animals.

19. Pet Memorial Lamp
This LED night light may be personalized with a picture of your pet. If you've recently lost a cherished pet, this would be a thoughtful and useful present for a friend or member of your family.
Custom 3D Pet Photo Night Light (Source:

LucklaurenArt

 - Etsy)
20. Dog Sympathy Pebble Frame
One of the nicest pet bereavement presents to a recently deceased pet owner is the Dog Sympathy Pebble Frame. As a tribute to their beloved pets, it's embellished with pebbles and a small wooden heart carved to symbolize a rainbow.
Dog Sympathy Pebble Frame (Source:

HandmadeCraftsUKShop

 - Etsy)
21. Pet Remembrance Wooden Plaque
It is possible to assist bereaved pet owners by giving them an attractive memorial plaque. This is often referred to as the most significant Dog memorial gifts. Personalize it with a name of your choice and display your pet's collar if you'd like.
Pet rememberance wooden plaque (Source:

PreciousCreations74

 - Etsy)
Conclusion
Our relationships are all unique, and another can never replace the death of a loved one. Dog memorial gifts aid in the recovery of a loved one who has lost a pet. Your well-wishes are also a part of your ideal dog remembrance presents for pet owners.
And a complimentary gift is the perfect match to make them feel that the dog will always be with them. Accepting the situation and using it as a source of energy is the first step toward moving forward.
The memorial gifts for loss of dog ideas above are good examples of thoughtful gifts to send to those who have lost a dog that is once part of their life.
Shop now to create a lasting dog memory.
Related collections: