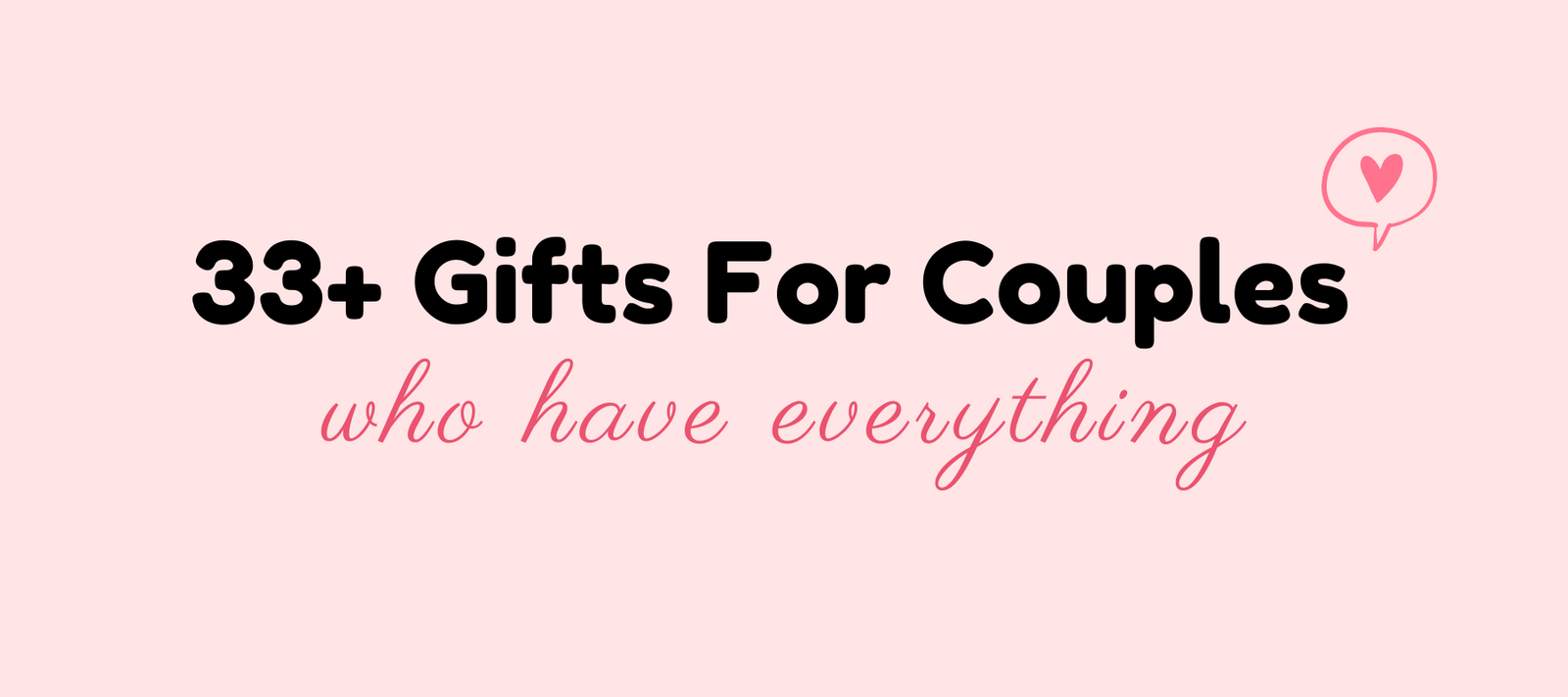 Do you have those friends that are just impossible to shop for? You know them really well, and they have a lot of interests, but they are also really good shoppers themselves so you're not sure if any gift you get them will add value to their life?
It's worse when they're a couple! Now there are two people with varying interests so you have to fight to find a common ground. It can get very tricky to buy gifts for couples who have everything. Luckily, we can help! Here's a list of 33+ gifts that you can give your couple friends including some cute custom couple gifts.
It doesn't even have to be your couple friends! Maybe you're somebody in a relationship with no material shortage. This could be because you've been together for years or your splurged a lot in your honeymoon face and actually gave them the moon. We're guessing that after about the 10th anniversary or so, gifts start becoming more and more generic.
Maybe your partner is an amazing gift giver and you're always left feeling underhanded. We sure know what it's like to be surrounded by talented people and feel like the useless one. That's the benefit of customizable gifts. You can order them online, and don't need to rely on your own skills. Just pick something that is special to your partner or your relationship, and freeze it forever through a gift!
This can be a photo, a quote, favorite lyrics or even an inside joke! Maybe your partner is really into something that's not popular enough to have merch available easily. You go and take that one 90s show nobody remembers anymore and have it printed on a T-shirt. Your partner will love you for the thoughtfulness.
The other good thing about custom couple gifts is that they usually aren't that expensive. If you're not willing to break the bank over a gift this time (for whatever reason; we don't judge), just remember it's a thought that counts. And what's more thoughtful than something handpicked and customized to the receiver's interests?
More to read:
Find the Perfect Gift Ideas for Couples Who Have Everything
Here, we have compiled a list of 35 incredible gifts for couples who have everything. Go through each of them to find what you're looking for. We hope it helps!
1. Custom Message for Him for Her Couple Canvas Print
We believe every couple should have a few custom couple photo gifts in their collection. It's become a bit of a rite of passage at this point. And why shouldn't it be? It's cute! You can have your photo printed on a canvas with a custom message like "love you forever" or something more personal. That sounds like a great decoration to have hanging above your bed, doesn't it?

2. Car Camping Night Sky Coffee Mug
If you're a couple that loves adventure, this might be the gift for you. It's a black mug with a picture of a couple and their dogs, sitting on the roof of their car and watching the night sky. How romantic and peaceful! If you take a lot of road trips together or frequently go camping, this is sure to bring back a lot of fond memories.

3. Hiking Mountain Dog and Couple Mug
This one is also perfect for the adventure-loving couple. It's a mug with a colorful picture of a couple sitting by a fire, looking at a lake. You can customize the genders of the people and the number of dogs. If you're a couple with multiple dog babies, we know your family is not complete without them!

4. Personalized Photo Printed Basswood
If you're looking for nice anniversary gifts for couples who have everything, look no further. What's more special than personalized photos on a strip of basswood? You can choose 3 photos and line them up like a photo booth reel. Be sure to pick the most sentimental ones to score extra points with them! On anniversaries people like to feel emotional and look back on everything they faced together.
Personalised Photo Printed Basswood (Source: DSGiftStudio - Etsy)
5. Custom Engraved Marble Wood Coasters
This one makes a beautiful wedding gift for couples who have everything. You can customize a lot of things, including the shape of the coasters, the font of the writing and the number of coasters you want in addition to the names of the couple. It's elegant in every way and it's made of half marble and half wood, giving it an extra classy touch! If the happy couple is passionate about keeping a tidy home, this is perfect.
Custom Engraved Marble Wood Coasters (Source: AvadirAndCo - Etsy)
6. Couple Initial Paddle Laser Engraved Wood Cutting Board
Know a couple that loves to cook? Get them this engraved cutting board! It's rustic yet elegant and makes a great addition to the kitchen. We all know that aesthetics is everything when you need inspiration to cook, right? And a couple that cooks together, stays together. Now while they do it, they can see their initials and remember the role food plays as the foundation of a relationship.
Couple Initial Paddle Laser Engraved Wood Cutting Board (Source:

 Things Remembered

)
7. 12 Reasons Why I Love You Canvas
This is a really cute nostalgic gift because it's in the style of a middle school notebook page dedicated to your first relationship or crush. You know the one where you would doodle hearts everywhere, paste their yearbook photo and write your name as Mrs.-whatever-his-last-name-is? If you are still with your high school sweetheart or wish you met each other at that age, this would be the perfect gift.

8. 
Our Love Story Framed Canvas
A great anniversary gift is one that celebrates all the milestones you've crossed. You can frame pictures from the time you met, the proposal and the wedding with their individual dates on a canvas. It's personal and it's heart-warming. Your partner will definitely get emotional over that one every time they look at it!

9. 
Lenox True Love Portrait Frame
You can get an engraved photo frame with your name and a quote to put your picture in. This frame is silver plated and elegant looking. It makes a great wedding or anniversary gift and can definitely be placed on a mantel. That's how fancy it looks. Celebrate your love by displaying it as décor. You deserve it!
Lenox True Love Portrait Frame (Source: Things Remembered)
10. 
Custom Star Map Print
Want to take her back to the night you met? Get her a map of the stars that night. You can actually do that now! All you have to do is share the date, and you get a picture of the night sky. You can customize thecolors you want too! There are few things as romantic as stars. This is a gift that is sure to be cherished forever. 
Custom Star Map Print (Source: branchNroot - Etsy)
11. Dog and Couple Camping Canvas
If you didn't like the idea of the mug, you can get the same thing on a canvas. This way, even if your life gets too busy, every time you look at the wall, you will remember that it's time to take a vacation. Never neglect the ones who love you.
12. Personalized Gift Compass
If you're looking for a very emotional gift for your partner, you can try giving them a compass with an engraved message. What's so special about this gift is they use your actual handwriting to engrave it. That is a gift your partner can cherish even when you're away! It's great for long distance couples.
Personalized Gift Compass (Source: EliteCustomDesignUSA - Etsy)
13. Romantic Personalized Record
Looking to get old school? Get your partner an engraved record! But with a modern twist: you can print the Spotify display of the song! If you also send the link, it will have the code added on it. The back of the record has the lyrics. If you choose, you can get a base with both your names engraved too!
Romantic Personalized Record (Source:

BonneStudio

 - Etsy)
14. Cat and Couple Mug
So all this time that we've been catering to dog parents, did you really think we forgot about cats? Of course not! You can get mugs with pictures of a couple with cats too! You can add everyone's names, and again you can pick the genders of the couple and the number of cats. Isn't that amazing? We think so too.
15. Couple Puzzle T-shirt for Him for Her
You could get your partner a t-shirt with your faces connected as puzzle pieces. You can add your names and also a special message. That's a really clever way to express how compatible you are. And if you're really feeling it, get 2 so you can match! So cute!
16. Personalized Milestones Map Print
It seems like these gift ideas just keep getting more and more creative! If you're a couple that likes to travel, you can have a map made of your destinations. It's literally a canvas with snippets of the map of your chosen locations compiled together. It's a great way to remember all the places you've been and it looks really nice too! 
Personalized Milestones Map Print (Source: CustomFamilyGifts - Etsy)
17. I'll Always Be Your Biggest Fan American Football Mug
If your partner is or was a football player, or just a really big fan of the sport, you can get them a custom mug to show your support. The mug has a picture of a football player hugging his lady. You can pick names, the message on the back, the color of the clothes and skin tones. We love a product that supports diversity!
18. Fourth 4th of July T-shirt
This gift is similar to the camping picture, but with 4th of July instead. And it's on a t-shirt. You can have a couple with their dogs watching the fireworks. It's extremely customizable, because you can choose the skin tone, names, dog breeds, hairstyles and also the genders of the couple. Instead of just going to the store and getting a generic image, why not get something personal?
19. I'm Keeping You Couple Matching Coffee Mug
You could simply get a mug with a couple on it and a special message. Sometimes you don't have to be very detailed to prove you care about someone. Mugs are such an essential part of our lives that it's always a thoughtful gift. Now it will have a special message.
20. These Are a Few of My Favorite Things Accent Mug
Maybe raindrops on roses are not your favorite thing. Is it spending time with your partner? We knew it! You can get that on a mug! On the front, add pictures of your special person. On the back, you have the message "These are a few of my favorite things". Isn't that the sweetest?

21. Infinity Sign with Names and Date
We've covered a few great custom gifts for married couples. Here's another one: how about you get an infinity sign made that has your names and your wedding date on it? And not just a picture of an infinity sign printed on a canvas either. It's made of metal in the shape of infinity. That would make a really nice decorative piece on your wall! 
Infinity Sign with Names and Date (Source: Infinity Sign with Names and Date - Etsy)
22. Personalized Couple Long Distance Relationship Campfire Mug
This one is a gift specifically for couples braving the long-distance relationship. The lack of physical proximity usually needs to be compensated by other love languages, usually gifts. You can give your partner a mug with the silhouette of your locations, and an image of a couple. The couple is customizable.

23. And So Together They Built a Life They Loved Bed-Wall Décor
A beautiful master bedroom needs a beautiful picture above the bed. You can get this tasteful framed poster that says "and so together they built a life they loved", and add in your names and wedding date. You can choose the size. This will add elegance to your room and help you manifest positivity together.
And So Together They Built a Life They Loved Bed-Wall Décor (Source: TaylorSigns - Etsy)
24. Annoying Each Other For Years Anniversary Canvas
If you've been growing old together, kudos to you for still getting each other gifts! You are bound to run out of ideas at some point. Couples that have been together for decades have definitely seen their fair share of ups and downs. But eventually, you see the downs as endearing. Give your partner a picture of an elderly couple with the message above. You can add in names and the number of years.

25. Custom Anniversary Calendar Coffee Mug
Does your partner constantly forget your anniversary? Now there's a gift for that! Get the calendar of your anniversary month printed on a mug, with the date highlighted. You can add a message under it and include your names at the top. The back will have a specific message though, but you have options for it.

26. Personalized Pair of Key Rings
For your anniversary, you can get a pair of matching wooden key rings that have your anniversary on them and your own initial. Key rings are used several times a day and are with us all the time. Having something special engraved on it will help us feel closer to our partners even when we spend most of our day working separately.
Personalized Pair of Key Rings (Source: WallfrogGraphics - Etsy)
27. Couple Eiffel Tower Mug
This is another calendar mug with your anniversary on it. Only this time, instead of a message on the back, it will have an image of a couple at the Eiffel Tower. You can customize the genders of the couple, and also add in your names and a message. If you didn't like any of the messages on the other version, you can choose this.
28. Couple Jewelry Dish
Has your partner run out of space for all the jewelry you get her? Maybe it's time you get her a fancy gold accent ceramic jewelry dish. You can add your initials and anniversary date to make it more personal. She'll love it. And she'll love you more when she remembers all the time you gave her jewelry every time she looks at it.
Couple Jewelry Dish (Source: ThePaintedPress - Etsy)
29. Mr. & Mrs. Doormat
This one is a classic. It has big suburban vibes of a white picket fence and everything. If you are one of those cheesy couples that loves to keep it cliché, get this Mr. and Mrs. Doormat. This is great if you just got married and moved into a new house. It's the perfect way to let your new neighbors know who they're dealing with.
Mr. & Mrs. Doormat (Source: creativencustomized - Etsy)
30. Calendar Pillow for Him for Her
Do you have a lot of throw pillows around your house? You can get a pillow cover with your anniversary date on a calendar. If your partner likes to change house decorations based on the occasion, maybe they can use this cover on the month or week of your anniversary!
31. Custom Couple Blanket
This is a gift idea we are totally crazy for! It's great for fall and winter months when you're always in the mood for snuggling! Get a blanket with your initials on it inside a laurel wreath. It's beautiful and it's comfy! You can also choose the size and material. That is a great gift.
Custom Couple Blanket (Source: LifestyleBlankets - Etsy)
32. Couple Fishing Accent Mug
You can get your partner a cute accent mug with a picture of a couple fishing on it. If you like to fish together, this is a great gift to cherish that. Not many people enjoy fishing anymore, and it's even rarer to see a couple doing it together. If fishing is your cup of tea (see what we did there?) get your partner this mug.

33. Love You to the Moon and Back
This is an adorable gift you can give yourselves from your dogs! Gifts cannot get any cuter! It's a fleece blanket with a picture of a couple and their dogs sitting on the moon, with the message "Love you to the moon and back". You can customize the number and names of dogs. If you are dog parents, it's impossible for your partner to not love this.
34. Hugging Dog Cat Couple Beach
This is another cute gift for couples with fur babies. You can get a pillow with a customizable picture of a couple sitting on the beach hugging their babies. You can choose between dogs and cats and also the number. You can also pick the skin tones of the couple, their hairstyles and their names.

35. The Art of Marriage Poem
The Art of Marriage by Wilfred Peterson is a well-loved poem by married couples. A lot of them use it in their vows! If you want to find gifts for couples who have everything, you could try having this poem framed for them. This works great for couples who have been together a long time. Newly-weds might appreciate it too!
The Art of Marriage Poem (Source: The Art of Marriage Poem
- Etsy)
Wrapping Up
Shopping for couples can be harder than shopping for individuals. A single person will only have birthdays and a few other things to celebrate. Couples have multiple dates to remember over the course of their relationship, and the older it gets, the occasions increase!
But that's a good thing because life is meant to be celebrated. What gets difficult is getting gifts for couples who have everything. We're hoping the list we provided has given you plenty of options.
Related collections: