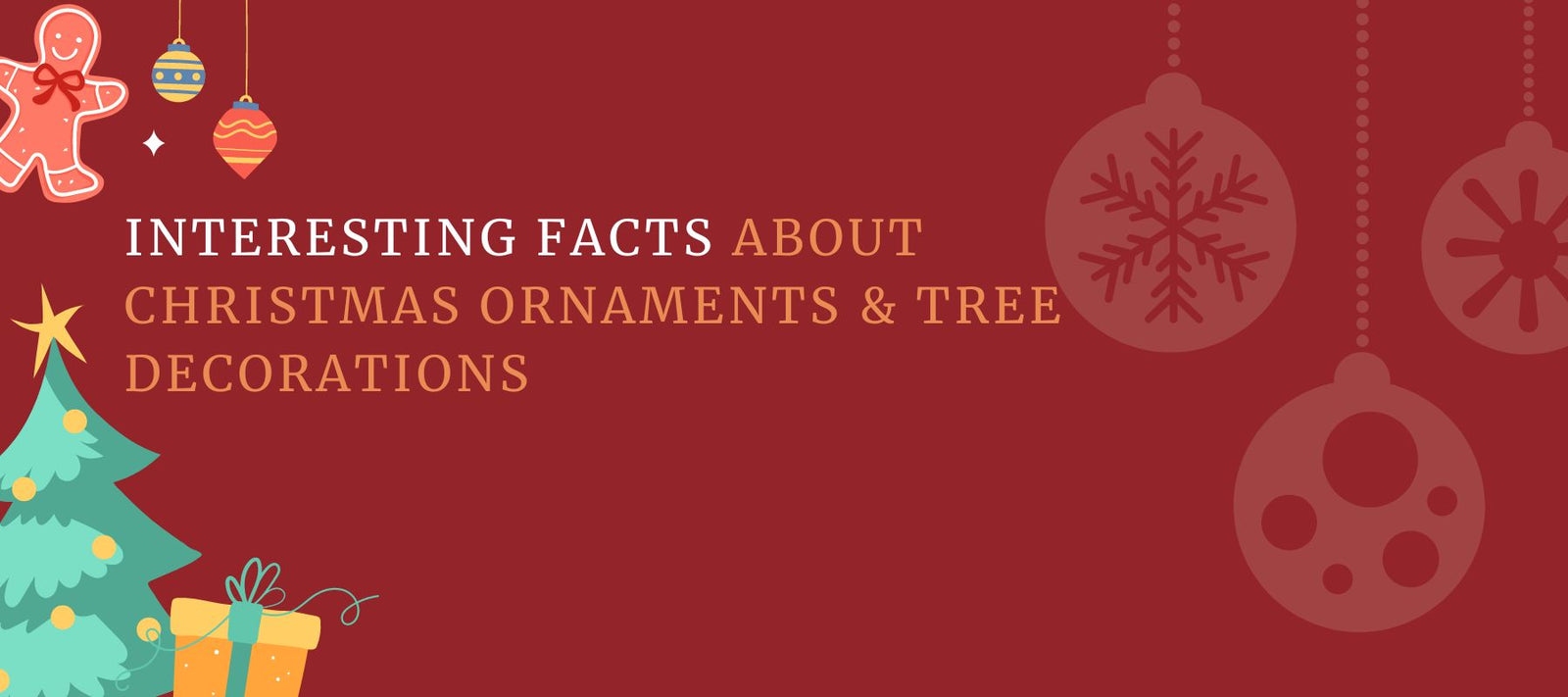 Christmas ornaments and tree decorations are more than just festive adornments, they carry a trove of intriguing stories and facts. Ever wondered about the world's priciest ornament or the rarest bauble that collectors seek? Or perhaps, which decoration holds the record for its sheer size? 
This article shines a light on these captivating tidbits, offering a fresh perspective on the beloved trinkets that have adorned our trees for years. Dive in to discover the fascinating world of Christmas ornaments and the tales they tell.
First/oldest Christmas Ornaments
During the 1800s in Germany, the first ornaments called Kugels appeared by Hans Greiner. Artisans carefully hand-blew these delicate baubles into shapes resembling fruits and nuts, and then they filled them with mercury or lead.
As time passed, the process changed and started using safer materials like silver nitrate and sugar water. These new creations were the first Christmas ornaments made for sale, and they set the foundation for the cherished tradition we love today.
Kugels - the first Christmas ornaments
What's Christmas Ornaments Meaning?
Christmas ornaments are special pieces that bring joy and warmth to our homes during the festive season. Each ornament tells a story, carrying its own unique meaning. Some might represent a cherished memory, while others symbolize hope, love, or the spirit of giving.
When we hang these decorations on our trees, we're not just beautifying our homes, we're also embracing the deep meanings and traditions of Christmas. These ornaments help us feel the magic of the holiday, making our celebrations even more memorable.
Christmas ornaments hold many difficult meanings
Largest Ornaments
On December 19, 2018, The Dubai Mall (Emaar Malls) in Dubai, UAE, created a magnificent masterpiece. It measured an impressive 4.68 meters (15 feet 4 inches) in diameter. This colossal ornament weighed 1,100 kilograms (2,425 pounds), adding a touch of awe-inspiring splendor to the holiday festivities. It set a record that leaves us amazed.
The largest ornament in Dubai Mall (Emaar Mall)
Most Expensive Ornaments
In 2009, a small village jeweler in Titchfield, Hampshire (UK), created an incredible ornament. They used 18-carat white gold to make it and added over 1,500 diamonds and 188 rubies that went around the globe. This made the ornament look very luxurious. The National Association of Jewelers was amazed and valued this particular ornament at $130,000. It shows a perfect mix of artistry and holiday spirit.
The most expensive ornament in Titchfield, Hampshire (UK)
Rare Ornaments
Some ornaments are precious, like the ones made from Dresden paper and cotton batting. Even free-blown ornaments are worth a lot. People want decorations with special figures or designs. Collectors especially like delicate garlands of glass beads. These beads are strung on wire or cotton cord and often have hollow mercury glass beads. With years of use and storage, intact examples are rare, and well-preserved ones can fetch close to $100.
Rare ornaments 
Ugly Ornaments/ Worst Ornaments
Some Christmas ornaments, like badly made plastic baubles, are not nice to look at. They might have bright and flashy colors or use cheap materials. These ornaments usually don't look good. Other examples of bad ornaments are ones with cheesy sayings or poorly made ones that can break easily.
Ugly Ornaments
👍 Watch more: Ugly Ornaments: A Quirky Twist on Holiday Decor.
Most Expensive Christmas Decorations
The most expensive Christmas tree decorations is a stunning star made by UK jeweler 77 Diamonds catches everyone's attention. They created this beautiful masterpiece using gold, silver, and 281 diamonds. There's an especially rare and flawless large diamond at its center, which makes it worth an incredible $950,000. This star is a perfect example of fantastic jewelry skills. It adds luxury and beauty to festive celebrations.
Most expensive decorations
Most Expensive Christmas Tree
In 2010, the Emirates Palace Hotel in Abu Dhabi decorated an incredibly fancy Christmas tree. The tree itself was not very expensive, just a few thousand dollars, but the decorations made it amazing. They put millions of dollars worth of diamonds, gold, pearls, sapphires, and emeralds on the tree. They even hung watches, necklaces, and bracelets on them. This made the pine tree look stunning, and all these decorations together were worth $11.4 million.
The most expensive tree in Abu Dhabi
Highest Tree
In 2021, Enid, Oklahoma, claimed the title of the world's tallest Christmas tree, towering at 140 feet. Surpassing the iconic Rockefeller Center tree, it stood 75 percent taller. The massive fir tree traveled 2,000 miles from California's Shasta-Trinity National Forest, selected from trees designated for harvest.
The tallest tree in Oklahoma
Conclusion
Explore the enchanting world of Christmas Ornaments and Tree Decorations Facts where history, luxury, and rarity intertwine. From Germany's first baubles to million-dollar diamond stars, each discovery ignites wonder or rare finds, towering trees, and record-breaking feats add to the holiday magic. These extraordinary tidbits infuse our Christmas celebrations with timeless allure. Let the tapestry of captivating facts enrich our joyous season.
Article Suggestions: