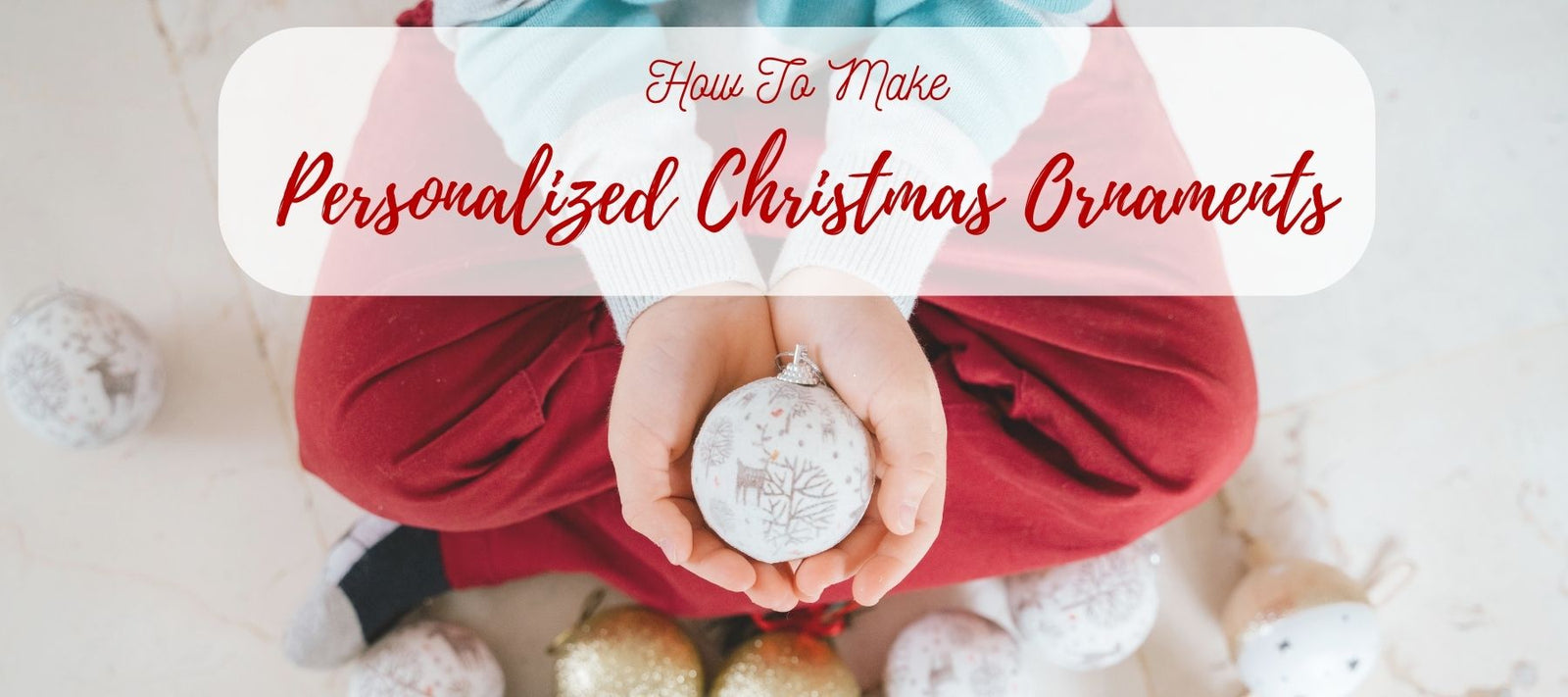 Personalize Christmas ornaments at home bring a unique charm to the festive season, reflecting individual tastes and memories. Crafting these special decorations at home allows one to infuse personal stories and creativity into each piece. This article delves into the art of making these ornaments, offering step-by-step guidance on various techniques suitable for different materials and shapes.
Whether it's inscribing a heartfelt message, painting a cherished memory, or adding a touch of sparkle, discover how to turn ordinary ornaments into treasured keepsakes. Embrace the joy of DIY and create festive decorations that will hold a special place in your heart for years to come. 
How To Make Personalized Christmas Ornaments? 
Creating your own unique Christmas decorations brings a lot of fun. Browsing a design, selecting material, deciding on your shapes, adding personalization information, and completing your process are all essential steps. Here is a detailed tutorial:
Browse A Design
Start by exploring different design options for your ornaments. You can find inspiration online, in craft stores, or even create your own designs.

Consider themes, such as traditional, rustic, modern, or whimsical, that align with your personal style or the recipient's preferences.
Decide On The Materials
Choose the material for your ornaments based on your design and desired aesthetic. Common materials include:
Glass

Wood

Clay or Polymer Clay

Fabric
Decide On Shapes
Decide what shapes you want for your ornaments. Some of the most common shapes are:
Traditional: Such as round balls, bells, stars, or angels.

Custom: Explore unique shapes that align with your design or theme, such as snowflakes, animals, or holiday symbols.
Choose a suitable shape for your ornaments
Add Your Personalization
Personalization comes after selecting a style, material, and form.
Creating an ornament with a name, date, or meaningful message is a great way to give it a distinctive touch.
Complete Your Process
If you're making the ornaments yourself, gather all the necessary materials and tools.

Or you can find custom ornament services online or visit craft shops that offer personalized ornaments. Place your order, specifying your chosen design, material, shape, and personalization details.
What Are Wide Collections Of Personalized Christmas Ornaments?
There are a wide variety of collections for custom Christmas ornaments. Some popular choices are:
Photo Ornament
Photo ornament is a classic personalized ornament that allows you to showcase a favorite photo. Insert in a picture that means a lot to you, whether it's of your family, your friends, your pet, or anything else. 
This ornament is a lovely memory of treasured times and an excellent Christmas cheer and comfort source.
Baby First's Christmas Ornaments
These ornaments are a special addition to welcome a new family member. Baby First's Christmas Ornaments usually feature the baby's name, birth date, or a special message.
Christmas Memorial Ornament
Remembering a lost family member or friend with a Christmas memorial ornament is a touching gesture. The picture, name, and dates of the deceased typically appear in this ornament.
Christmas memorial ornament
Christmas Family Ornament 
A family ornament usually represents the entire unit of the family. It can include different elements such as personalized names, family members' initials, or photos. Also, it serves as a lovely reminder of the joy and togetherness of the holiday season. Family ornament can be a cherished keepsake for years to come.
Christmas Couple Ornaments 
Christmas couple ornaments allow couples to celebrate special occasions like weddings, anniversaries, and other milestones in their relationship. 
Couple Christmas ornaments make wonderful gifts for couples during the holiday season. They remind us of the love and pleasure experienced between two individuals and provide them joy, warmth, and emotional worth. These ornaments are a lovely way to mark a couple's big day, whether it's a wedding, an anniversary, or simply a love shower.
Christmas Dog Ornament
Christmas Dog Ornaments can depict different dog breeds, such as Labrador Retrievers, Golden Retrievers, Pugs, Bulldogs, and many more. They may feature a realistic dog portrayal or have a more whimsical and cartoon-like appearance. 
Dog Christmas ornament is popular among dog lovers and owners who want to include their furry friends in the holiday festivities. 
Christmas Cat Ornament
Those who have cats and want to adorn their houses with memories of their feline companions often go for this option.
Cat lovers and owners will appreciate receiving one of these adorable Christmas decorations. Cat ornaments remind us of the love and companionship that cats bring into our lives while adding joy and fun to the Christmas season. 
Best Friend Ornament
A best friends ornaments is a special decorative item that celebrates the bond and friendship between two individuals. It is common for best friends to exchange these ornaments as gifts, and they can display them during the holidays or throughout the year.
Use best friend ornament to celebrate friendship
Teacher Ornament
A teacher ornament will help honor and celebrate teachers. Christmas ornaments for teachers often serve as a gift to show appreciation for educators' hard work and dedication.
Common designs include apples, books, pencils, or school-related objects. Some ornaments may include messages like "Thank You Teacher" or "Best Teacher Ever."
Nurse Ornament
These Nurse Christmas ornaments are often gifts that show appreciation for the hard work, compassion, and care nurses provide. It is common to see in them nursing caps, stethoscopes, medical crosses, or nursing-related objects or messages like "Thank You Nurse" or "Nursing is a Work of Heart."
What Are Custom Ornaments Made Of? 
Custom Ceramic Ornaments
People make these ornaments clay-shaped and then fire them in a kiln. Ceramic Christmas ornaments are durable, and you can paint or glaze them to achieve the desired finish. They can be beautifully customized with intricate designs or personalized messages.
Custom Wooden Ornaments
Wood is another popular material for making custom ornaments. You may get these wooden ornaments in pine, oak, or birch wood, among others.
Custom Glass Ornaments
Glass ornaments add a touch of elegance to any Christmas ornament. The most popular technique involves sculpting molten glass by hand or blowing it into molds. You may get glass personalized Christmas ornaments in clear, translucent, or opaque varieties. 
Incorporating glass ornaments to decoration adds elegance
Custom Acrylic Ornaments
Acrylic ornaments are lightweight and durable. Due to their acrylic plastic construction, you can mold them into various shapes and sizes. Personalized acrylic ornaments can be clear or tinted. You can customize them with printed designs, photographs, or personalized messages.
Custom Metal Ornaments
Metal ornaments, such as brass, copper, or aluminum, offer durability and longevity. Customize metal ornaments with intricate designs or text by stamping, etching, or engraving is ideal. You can also leave them in their natural state or coat them with paints or finishes to enhance their appearance and prevent tarnishing.
What Are Different Shapes Of Custom Ornaments?
Circle
Circle-shaped ornaments are a classic choice. They represent unity and continuity, and they provide a simple and elegant canvas for customization.
Heart
Heart-shaped decorations aren't only wonderful for Valentine's Day; they're also appropriate throughout the holidays. They are a method of expressing care, concern, and affection.
Heart-shaped decorations express care, concern, and affection
Medallion
Medallions are ornamental pieces that are often round or oval in form and feature elaborate designs or patterns. They add an elegant touch to Christmas decorations.
Star
Stars are a common symbol associated with Christmas. They add a touch of elegance and sparkle to your tree.
Custom Shape
Apart from the traditional shapes, many Christmas custom ornaments come in unique and personalized shapes. Numerous ideas are accessible, such as snowflakes, saints, polar bears, reindeer, candy, and stockings. Creating unique Christmas decorations from home is a fun way to express your artistic side and put your mark on the holiday season.
Why Do You Need Custom Ornaments?
Here are some benefits of custom ornaments and how they can enhance your life:
Gifts For Loved Ones
Custom Christmas ornaments make for exceptional gifts for your loved ones. They showcase your thoughtfulness and effort in creating a unique and personalized present. By customizing an ornament specifically for someone, you demonstrate that you have taken the time to consider their interests, preferences, or special moments shared together.
Ornament Exchanges
Custom ornaments add an element of uniqueness and surprise to the exchange. While traditional store-bought ornaments are lovely, custom ornaments bring a special touch that stands out and sparks conversation among participants. 
Each person receives a one-of-a-kind ornament they can proudly display everywhere, making the ornament exchange more memorable and enjoyable.
Use ornaments for gift exchange
Festive Decor
Custom Christmas ornaments are essential for festive decor as they: 
Allow for personalization
Contribute to a cohesive theme 
Hold sentimental value
Facilitate conversations
Become part of cherished family traditions
Add a layer of joy and meaning to your holiday celebrations.
Educational And DIY Projects
The creation of personalized ornaments may be a fun and instructive way to engage in do-it-yourself (DIY) crafts or educational activities. They may encourage kids' imaginations and let them make unique decorations. This fosters their artistic skills, imagination, and holiday spirit.
How Do You Wrap Ornaments? 
To properly wrap Christmas ornaments, follow these steps:
Gather supplies: You will need tissue paper, bubble wrap, cardboard boxes, and packing tape.
Start with tissue paper: Carefully wrap the ornament in the tissue paper, covering it completely. This will protect the ornament from scratches.
Add extra cushioning with bubble wrap: If you have fragile ornaments, adding an extra layer of protection with the bubble wrap is recommended.
Separate ornaments with cardboard dividers: When wrapping multiple ornaments, keep them separated to prevent them from banging into each other. Create dividers by standing the cardboard pieces vertically in the box, forming individual compartments for each ornament.
Place wrapped ornaments in a sturdy box: Choose a sturdy cardboard box that is big enough to accommodate all the wrapped ornaments. Fill empty spaces with crumpled tissue paper or bubble wrap to prevent movement.
Placing wrapped ornaments in a sturdy box
Are Custom Ornaments Good Gifts?
Yes, custom ornaments can make excellent gifts for several reasons:
Personalization:Custom ornaments add a personal touch to your gift. You can include the recipient's name, a special message, or a design that holds significance to them. This personalization shows thoughtfulness and makes the gift more meaningful.

Sentimental Value:Custom ornaments often have sentimental value because they can commemorate a specific event, milestone, or memory. They can serve as a reminder of a special occasion or a cherished relationship. This sentimental value makes the gift more heartfelt and memorable.

Unique and One-of-a-Kind: Custom ornaments are unique and not readily available in stores. They meet your preferences or reflect the recipient's interests, hobbies, or personality. This uniqueness makes the gift stand out and shows that you put effort into selecting something special.

Versatility: You can use custom ornaments for various occasions. You may present them on any special occasion, from holidays to birthdays, anniversaries, graduations, and weddings. 
How To Decorate With Personalized Ornaments?
Here are some ideas on how to decorate with personalized ornaments:
Christmas Tree: Putting customized ornaments on a Christmas tree is the most common and typical use.  

Garland or Wreaths: Incorporate personalized ornaments into garlands or wreaths to add a personal touch. Hang them with other Christmas tree decorations such as ribbons, bows, or lights.
Display on Shelves or Mantels: Display them on shelves or mantels as standalone décor items. Arrange them in a group or create a centerpiece with other decorative elements like candles or greenery. 

Hanging Mobiles: Create a hanging mobile with personalized ornaments. Attach them to strings or ribbons at different lengths and hang them from the ceiling or a decorative hook. 

Table Centerpieces:Incorporate personalized ornaments into your table centerpieces. Place them in decorative bowls, vases, or trays, along with other elements like candles, flowers, or greenery. 
Use Christmas ornaments to make garland
The Bottom Line
In conclusion, making personalized Christmas tree ornaments is a wonderful way to infuse your holiday decorations with meaning and creativity. Following the techniques and ideas outlined in this guide, you can learn how to personalize ornaments at home. 
So, gather your crafting supplies, unleash your creativity, and embark on the journey of making personalized Christmas ornaments.
You may also like: