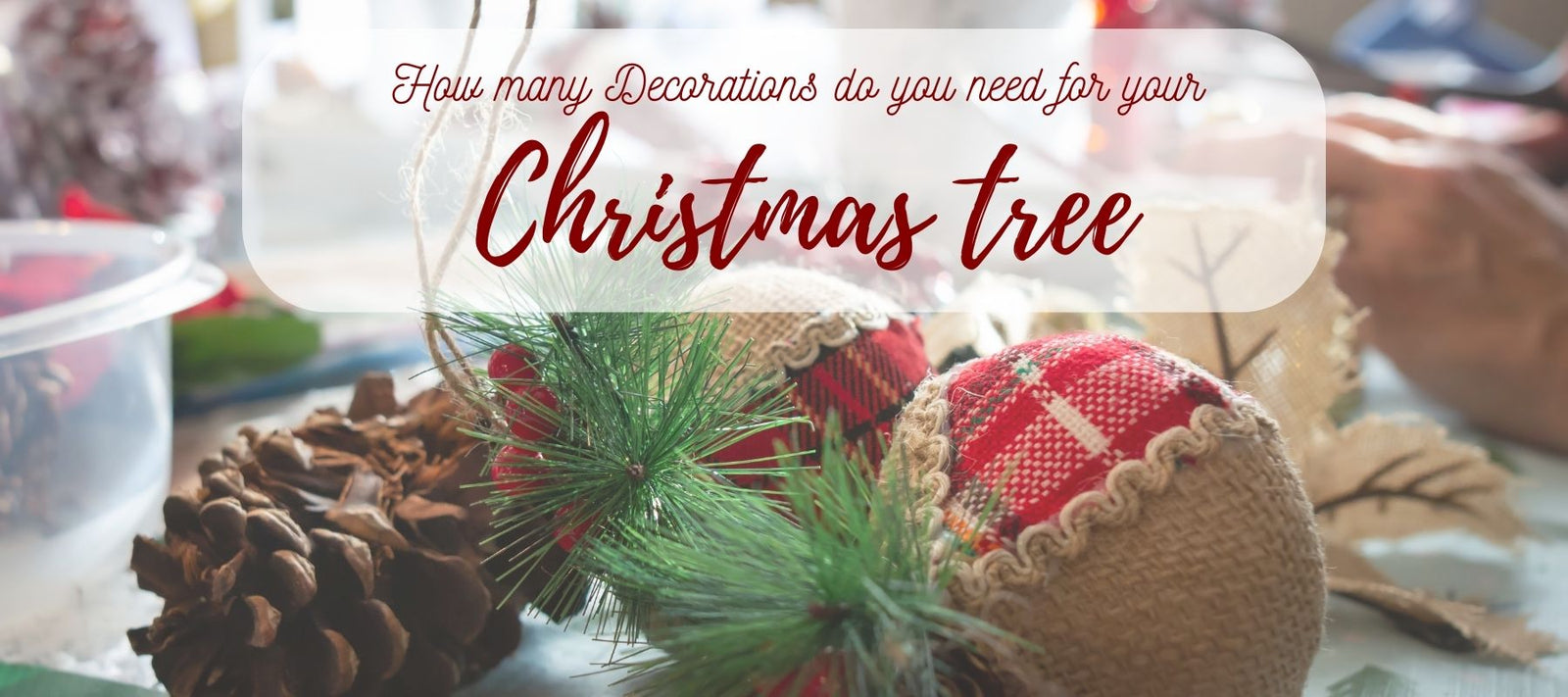 Christmas decorations are a tradition that's always cherished and passed down through generations. Christmas just doesn't quite feel like Christmas without those moments gathered around the Christmas tree, adorning it with adorable decorations. Some first-timers undertaking this delightful holiday task might find themselves in a bit of a tangle, unsure of how many decorations are actually needed. Christmas decorations come in various types, ranging from ornaments to tree skirts, tree toppers, ribbons, and garlands. Each type of decoration will require a different quantity based on the height, width, and style of your Christmas tree. We've conducted some research to provide you with the simplest guide on determining how many decorations you'll need for your Christmas tree.
What are types of Christmas decorations?
Christmas decorations encompass a wide array of ornamentation utilized for embellishing your Christmas trees. They come in diverse materials, designs, and shapes, each serving a distinct purpose. Starting from the tree's pinnacle to its base, people commonly adorn it with some of the most favored Christmas ornaments, including tree toppers, ornaments, tree skirts, ribbons & garlands, collars, and tree stands, among others.
Christmas Ornaments
Christmas ornaments are objects used to decorate Christmas trees, with origin of Christmas tree ornaments tracing back to Germany. In the early days, these ornaments consisted of fruits, cookies, or other edible items. Nowadays, Christmas ornaments are crafted from diverse materials, including fabric, woven materials, glass, plastic, porcelain, or metal. They are not only visually appealing with their playful designs, but they are also reusable from year to year.
Kinds of Ornaments
Folks commonly create Christmas ornaments inspired by well-known Christmas symbols like candy canes, bells, stars, angels, Santa Claus, snowflakes, and Christmas pickles. Shiny balls are also among the most popular holiday ornaments.
Wooden ornaments
How Many Decorations Do You Need For Your Christmas Tree?
The truth is, there isn't a strict rule that dictates the number of decorations you should use when it comes to the Christmas tree. Deciding how many adornments are right for your tree can depend entirely on your personal preferences and individual style, without needing to take any additional factors into account. For example, you might prefer an elegant and minimalistic tree decorated solely with shimmering silver baubles and tinsel. On the other hand, others might opt for a lively tree adorned with a variety of ornaments.
To ensure your tree maintains its tidy appearance, it's a good idea to consider the tree's height in order to determine the appropriate number of decorations. Refer to the sizing chart below for guidance.
| | | | |
| --- | --- | --- | --- |
| Tree Height | Light Coverage | Heavy Coverage | Ornaments |
| 6.5 feet | 70 pieces | 105 pieces | 4-8.75 inches |
| 7.5 feet | 105 pieces | 140 pieces | 4-8.75 inches |
| 9-10 feet | 175 pieces | 210 pieces | 4-8.75 inches |
Tips
If you wish fuller coverage, you will need fuller trees to display more ornaments compared to narrower ones. Sparse trees with widely spaced branches are well-suited for displaying ornaments, while fuller trees provide more space to arrange multiple sets.
👍 Watch more: How Many Ornaments for a Christmas Tree? Decorating Tips and Ideas.
Tree toppers
A treetopper is an item used to decorate the top of a Christmas tree, which is why people often refer to it as the "crown" of the festive fir. Treetoppers are available in various forms such as the Star of Bethlehem, angels, fairies, or finials.
A star tree toper
What Size of Tree Topper Do I Need?
To choose the right treetopper, start by considering if it complements your Christmas tree's style and symmetry. For example, full-shaped trees pair nicely with star or angel treetoppers, while slimmer trees might suit taller, more elongated designs.
When it comes to the size of the treetopper, measure the distance between your Christmas tree and the ceiling to ensure it doesn't make your tree look like a "skyscraper." The best rule of thumb is to leave about a 6-inch gap between the top of the tree and the ceiling. Remember to factor in the height of the tree stand as well. Below, you'll find a sizing chart for treetoppers based on various heights of Christmas trees.
| | |
| --- | --- |
| Tree Height | Tree Topper Size |
| 4 – 5.5 feet | 5 inches tall by 6 inches wide |
| 6 - 6.5 feet | 7 inches tall by 5 inches wide |
| 7 - 7.5 feet | 4 inches tall by 4 inches wide |
Ribbons
Kind of Ribbons
Christmas ribbons are among the decorative elements that bring an elegant touch to your Christmas tree. Ribbons come in various styles, materials, sizes, and colors. Popular Christmas ribbon themes encompass glittery, striped, metallic ribbons, and various other unique patterned designs.
Christmas tree ribbon bow
How much ribbon for christmas tree? 
The height and width of your Christmas tree will influence the ribbon size. Of course, the style also plays a significant role. A minimalist tree would certainly require fewer ribbon decorations compared to an elaborately adorned one. To begin with, establish a guideline for the appropriate ribbon size, aiming for at least 3 ribbon strips per foot of the tree. The wider your tree, the longer ribbons you'll need. To maintain a tidy look for your Christmas tree, start wrapping the ribbon from the top, spiraling downward to the bottom. Here is a handy guideline on choosing the appropriate ribbon length. 
| | |
| --- | --- |
| Tree Height | Ribbon Length |
| 6.5 feet | 19.5 yards |
| 7.5 feet | 22.5 yards |
| 9-10 feet | 27-30 yards |
Garland
While decorating your Christmas tree, you'll likely encounter moments when you spot unattractive gaps and aren't sure which decorations to use for filling them. Christmas garlands emerge as a perfect festive solution to occupy these spaces, serving as a background for lights or other ornaments. Garlands are frequently fashioned from lovely greenery, available in both real and artificial varieties, such as holly, ivy, or pine.
Christmas Garland 
How much garland for Christmas tree?
A simple ratio to easily determine the needed number of garlands for decorating your Christmas tree is to prepare 9 feet of garland for each foot of the tree's height. If you desire a thicker coverage or your tree is particularly lush, opting for 10 feet of garland is also suitable.
On average, a 6-foot tree would require around 54 to 60 feet of garland, while a 7-foot tree might need garlands ranging from 63 to 70 feet.
Christmas lights
Christmas lights are a type of lighting commonly used for decoration during the Christmas season, typically displayed throughout the Christmas period, including Advent and Christmas Day. This tradition originates from when Christmas trees were adorned with candles, symbolizing Christ as the light of the world.
How much Christmas lights for Christmas tree
The number of light strands required to decorate your Christmas tree will vary based on the height of your tree. Additionally, the quantity of lights should be determined by the desired level of brightness for your tree. A suitable amount for embellishing an average tree is 150 lights per strand. If you aim for a more vibrant radiance, opting for 200 lights per strand would be preferable. It's advisable to avoid using 100 lights per strand, as this could result in a tree that appears less luminous and somewhat lackluster. 
Our provided instructions below will assist you in accurately calculating the number of light strands needed for this year's Christmas.
Tree Height

Number of Lights

3 feet

3 strands of lights

(300-600 lights)

4 feet

4 strands of lights

(400-800 lights)

5 feet

5 strands of lights

(500-1000 lights)

6 feet

6 strands of lights

(600-1200 lights)

7 feet

7 strands of lights

(700-1400 lights)

8 feet

8 strands of lights

(800-1600 lights)

9 feet

9 strands of lights

(900-1800 lights)

10 feet

10 strands of lights

(1000-2000 lights)
Tree skirts
A tree skirt serves as an ideal Christmas tree decoration idea to hide the unattractive and awkward look of tree stands. Tree skirts bring a tidy and sophisticated appearance to your Christmas tree.
What Size of Tree Skirt Should I Get?
To select a tree skirt that complements the layout and your Christmas tree, it's advisable to choose one that is larger than the entire width of the tree by 6 inches.
| | |
| --- | --- |
| Tree Width | Tree Skirt Size |
| 30-42 inches | 36-48 inches |
| 42-54 inches | 54-60 inches |
| 54-64 inches | 70-72 inches |
| 64-76 inches | 84 inches |
Collar
For those who find that tree skirts have become too outdated for Christmas decoration, tree collars serve as the ideal alternative. A tree collar functions like an elegant neck ring positioned beneath the tree's base, effectively concealing the bulky tree stands. With a tree collar, you won't need to concern yourself with straightening out the wrinkles of a tree skirt.
Basic Christmas tree collar 
What Size of Tree Collar Should I Get?
The most crucial factor to consider when choosing a tree collar is ensuring its compatibility with the height and diameter of the tree trunk. Opt for a tree collar that matches the width of the tree when it's about halfway up its height.
Tree Stands
A Christmas tree stand is an essential and indispensable item for every Christmas occasion. They help keep the tree steady and hold water for it, ensuring a real tree can remain healthy throughout the holiday season.
What Size of Tree Stand Should I Get?
An appropriate tree stand should match the diameter of your tree's trunk and accommodate the features of its base. Take into account the height of your tree, as the tree strands will contribute to its overall height.
What are FAQS about how many Christmas decorations do you need?
How tall is your Christmas tree?
In order to choose a Christmas tree of suitable height for your space, you should start by deciding where you'll position the tree. Afterward, think about whether you intend to add a tree topper or not. If you do, make sure there's a 12-inch space between the ceiling and the top of the tree. Otherwise, 6 inches is a fitting gap. The Christmas tree height chart below will make it easier for you to select the right tree height.
| | |
| --- | --- |
| Christmas Tree Height | Recommendations |
| Under 6 Feet | Small spaces, bedrooms, tabletops, kid's rooms |
| 6 to 6 ½ Feet | Low-ceiling areas |
| 7 to 7 ½ Feet | 8-to-9-foot ceilings |
| 8 to 9 Feet | High-ceiling areas |
| 10 to 14 Feet | Vaulted-ceiling areas |
| 15 to 30 Feet | Grand displays |
What kind of Christmas tree do you have to decorate?
There isn't a strict rule regarding the type of Christmas tree you should choose for decoration. If you prefer a tree that can be used repeatedly, consider an artificial Christmas tree. For those who cherish the vibrant and natural allure of a tree, purchasing a real Christmas tree from farmers is a wonderful choice.
How much do you want to decorate your Christmas tree?
The number of decorations you want to use for adorning your Christmas tree will depend on its height. The taller the tree, the more decorations you'll require. As a general guideline, a 4-foot tree would typically need a minimum of 54 assorted ornaments to achieve a splendid appearance. In contrast, a 5-foot tree would likely require more, perhaps around 68 pieces. For a larger 8-foot tree, you might even need as many as 212 ornaments to fully cover it.
However, there's no need to overly fixate on an exact count of decorations for your Christmas tree. Sometimes, it's all about expressing your individual style.
How do you decorate a Christmas tree?
You can craft your Christmas tree according to your taste. However, if you are decorating the tree for the holiday season for the first time, here are some tips that could guide you in accomplishing this joyful task like a professional:
Suspend the heavier ornaments towards the back, and let the smaller branches at the front host adorable tiny decorations.

Craft a refined color scheme if you wish to evade an overcrowded appearance for your Christmas tree. If you fancy the traditional ambiance, blend red ornaments with green. If you are inclined towards a gentle, rustic ambiance, mingle yellow, white, and green hues, with a preference for decorations fashioned from burlap. In case you are adorning an opulent space, intermingle gold and silver shades to infuse a touch of glamour into your tree.

Remember to dangle the fragile Christmas tree ornaments from the higher branches of the tree.

Don't disregard the tree's base—arrange some decorations, candles, or gift boxes beneath the tree to introduce more festive warmth into your dwelling.
👍 Watch more: How to Decorate Christmas Tree: A Step-by-Step Guide with Ornaments.
Conclusion
Decorating a Christmas tree is a cherished tradition that many families love, even though it can create some unseen pressures. Don't let these pressures overwhelm you during the holiday season! Keep in mind that it's your tree, and everything you adorn it with reflects your style, emotions, and the message you want to convey to your family. Regardless of how you choose to decorate your Christmas tree, it will undoubtedly become a centerpiece in your home throughout the festive season.
You may also like: